Syrian Army Tightens Grip Near Turkish Border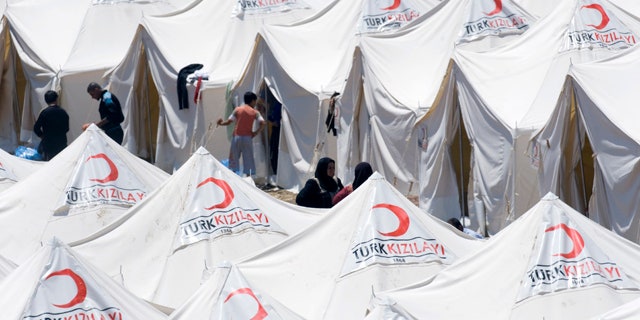 BOYNUYOGUN REFUGEE CAMP, Turkey – Syrian troops are tightening their grip on villages near the Turkish border, setting up checkpoints and arresting dozens in an attempt to stanch the flow of residents fleeing into Turkey, activists said Sunday.
Human rights activist Mustafa Osso said there were concerns that thousands of displaced people crowded near the border would come under attack in the coming days.
The fighting in the Jisr al-Shughour area in the northern Idlib province started nearly two weeks ago, and has displaced thousands of people, including some 10,100 who are sheltered in three Turkish refugee camps. An estimated 5,000 more people are camped out on the Syrian side of the border with dwindling resources as the army tightens its grip on the area, hoping to remain in Syria and avoid refugee status.
Osso said military operations were under way Sunday in the villages of Bdama and Rihan near the border. Both villages had provided a gateway for refugees as well as medicine and foodstuffs for them.
"Security forces have arrested around 100 people from those villages in the past few days. They are trying to close off border areas with checkpoints to keep people from leaving," Osso said.
He added that troops were surrounding the village of al-Hamboushieh, only a few kilometers from the border encampment. "We are concerned that the thousands gathered near the border will eventually come under attack," Osso said.
Another activist near the Turkish border said security forces on Sunday torched a bakery in the village of Bdama, about 12 miles from the Turkish border, that had been the sole source of bread for the displaced.
The activist, Jamil Saeb, said a man at the bakery was shot in the stomach and was evacuated to Turkey for treatment Sunday morning. The report could not be independently verified.
The three-month uprising against President Bashar Assad's rule has proved stunningly resilient despite a relentless crackdown by the military, pervasive security forces and pro-regime gunmen.
Human rights activists say more than 1,400 Syrians have been killed and 10,000 detained as Assad tries to maintain his grip on power.
Along the border Sunday, those displaced said they were running short of supplies.
"We are encircled and have been without bread for two days," said Rami Ismail, whose family fled from the village of Hambouchieh to the camp just across the Turkish border. "We are hoping for some assistance from Turkey," he added.
The attack on Bdama occurred a day after Syrian forces swept into Maaret al-Numan, a town on the highway linking Damascus, the capital, with Syria's largest city, Aleppo.
Bdama is next to Jisr al-Shughour, a town that was spinning out of government control before the military recaptured it last Sunday. Activists had reported fighting in Jisr al-Shughour between loyalist troops and defectors who refused to take part in a continuing crackdown on protesters seeking Assad's ouster.
A Turkish villager near the border with Syria said hundreds of Syrians were crossing over Saturday afternoon, fleeing the army advance.