Syria, China accepts UN envoy Kofi Annan's peace plan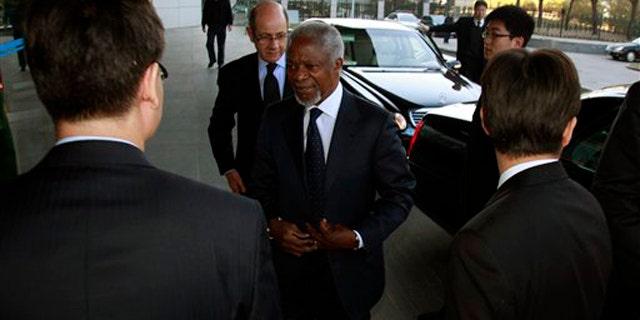 DAMASCUS, Syria – U.N. envoy Kofi Annan said Tuesday he has received the backing of both Syria and China for his plan for a negotiated end to the bloody Syrian conflict.
Annan believes Syria's acceptance of the plan is an important first step which needs to be immediately implemented, his spokesman said.
Annan, who also is an envoy for the Arab League, told reporters after meeting Chinese Premier Wen Jiabao on Tuesday that he had received a "positive" response from Syria as well as support from China, following a similar commitment from Russia over the weekend.
"We've had very good discussions about the situation in Syria. And they have offered me their full support," Annan said after the meeting with Wen.
Wen said work on a solution to the crisis is at a "critical juncture," adding that China backed Annan's mediation efforts.
Annan is proposing a six-point plan that includes a cease-fire first by the Syrian government, a daily two-hour halt to fighting to evacuate the injured and provide humanitarian aid, and Syrian-led political talks to address the concerns of the Syrian people.
The support from China and Russia may have been important in nudging Syria on the plan, which has been endorsed by the U.N. Security Council in a nonbinding presidential statement.
China and Russia have twice vetoed proposed U.N. sanctions over Assad's crackdown on a yearlong uprising in which more than 8,000 people are believe to have died. The two countries called those proposed U.N. resolutions unbalanced, saying they blamed only the Syrian government and demanded an end to government attacks, but not ones by the opposition.
Annan views Syria's positive response "as an important initial step that could bring an end to the violence and the bloodshed, provide aid to the suffering, and create an environment conducive to a political dialogue that would fulfill the legitimate aspirations of the Syrian people," spokesman Ahmad Fawzi said in a statement.
Annan "stressed that implementation will be key, not only for the Syrian people, who are caught in the middle of this tragedy, but also for the region and the international community as a whole," Fawzi said.
About 60 countries, including the United States, are to attend a "Friends of the Syrian People" conference in Istanbul on Sunday. Chinese Foreign Ministry spokesman Hong Lei said Monday that China was invited but would not attend.
Washington and many of its allies have said Assad has lost all legitimacy and must step down. China says the crisis needs to be resolved through talks.
The conference in Istanbul comes as Turkey edges closer to setting up a buffer zone in Syria to protect civilians. Turkish officials have long been hesitant about the idea, but now say a surge of refugees from Syria might compel Turkey, preferably with international backing, to establish a buffer zone on Syrian soil to guarantee the security of its own southern border as well as the welfare of civilians fleeing violence.
Chinese analysts said Beijing was unlikely to support the buffer zone proposal, especially if the possibility of Western military action against Syria is not ruled out.
"China will not accept that proposal. But it will not openly oppose it either," said Wang Lian, a Middle East expert at the School of International Studies at Peking University, Wu Bingbing, an expert on Arabian issues at Peking University, agreed China would not back a buffer zone, saying it infringed on Syria's sovereignty.
"A balance must be achieved between promoting the easing of the humanitarian crisis in Syria and ensuring Syria's sovereignty," he said.