Swedish king, 40 years on throne, invites everyone to dance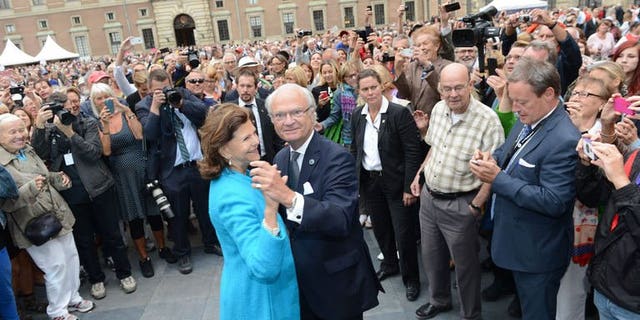 STOCKHOLM (AFP) – Sweden's King Carl XVI Gustaf celebrated 40 years as monarch Sunday in true Scandinavian egalitarian style by inviting everyone to come and dance at the royal palace.
"I invite everybody to a music and dance party in the inner courtyard of the royal palace," the 67-year-old said according to national Swedish radio.
"And everybody is welcome. Bring your dancing shoes. Cheers!"
The king showed the way by asking his spouse for the past 37 years, German-born Queen Silvia, up for a dance on a huge plastic floor laid out on the cobbled courtyard.
Carl XVI Gustaf, whose father died in an airplane accident in 1947, succeeded his grandfather Gustav VI Adolf in 1973.
In an interview with the national broadcaster prepared for the anniversary, the king was asked how much longer he intended to stay in the job.
"I can't answer that. It will be determined by my health gradually. But I think it's very exciting because there is so much happening in the world around us," he said.
A survey of 1,000 Swedes published by the Social Democrat-leaning newspaper Aftonbladet in January showed 60 percent supporting Carl XVI Gustaf relinquishing his duties to his oldest daughter, 36-year-old Victoria.