Suspect charged with murder in Quebec mosque terror attack
The lone suspect accused of opening fire at a Quebec City mosque was formally charged with six counts of first-degree murder on Monday evening, one day after the massacre that killed six men.
The suspect was identified as 27-year-old Alexandre Bissonnette, a student at the nearby Laval University, the CBC reported. Bissonnette also was charged with five counts of attempted murder.
A second man, Mohamed el Khadir, was initially identified as an additional suspect by Quebec officials. Reuters and the French language newspaper La Presse reported earlier that one of the suspects was of Moroccan origin, a report that was picked up by Fox News and other news outlets. But police later announced there was only one suspect in the attack, and Khadir was identified as a witness.
NAVY SEAL KILLED, 3 INJURED IN RAID ON AL QAEDA IN YEMEN
Prime Minister Justin Trudeau condemned the massacre at the Quebec Islamic Cultural Centre, calling it a "terrorist attack on Muslims." The attack unfolded in the men's section of the mosque on Sunday night.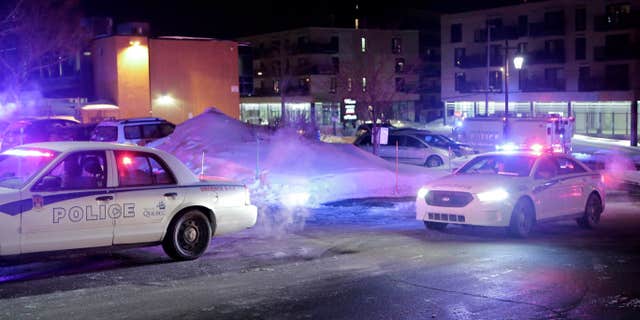 Trudeau said in Parliament the victims were targeted simply because of their religion and spoke to directly to the more than 1 million Muslims that live in Canada, saying, "We are with you."
ISRAEL POLICE: JANUARY SHOOTING IN HAIFA WAS 'TERROR' ATTACK
Five people were in critical condition and at least 12 others suffered minor injuries, University of Quebec Hospital Centre spokeswoman Genevieve Dupuis said Monday. The dead ranged in age from age 35 to 65.
A possible motive was unclear. Police said they did not believe there were other suspects.
One gunman was armed with an AK-47, the Le Soleil newspaper reported.
"The bullets hit people that were praying. People who were praying lost their lives. A bullet passed right over my head," a witness who asked to remain anonymous told Radio Canada.
President Trump expressed his condolences to Trudeau and the Canadian people and offered to provide any assistance needed, according to the prime minister's office.
The gunfire started at the Islamic center at around 8 p.m., Le Journal de Quebec reported. More than 50 people were attending prayer service at the time of the shooting. The center's president Mohamed Yangui said the shooters reloaded at least three times.
Police ramped up security at mosques across the country after the massacre.
An unidentified man looking for his friends, who were regular attendees of evening prayers, told Le Journal de Quebec, "I've tried to reach them, but I cannot. It's terrible."
The French-speaking province of Quebec has been embroiled in a lengthy debate about race and religious accommodation. The previous separatist government of the province called for a ban on ostentatious religious symbols such as the hijab in public institutions.
The CBC reported that someone left a pig's head on the mosque's doorstep this past June, during the Muslim holy month of Ramadan. Islam's holy book, the Koran, forbids them from consuming pork.
"We were told that it was an isolated act, but today we have deaths," Yangui told reporters. "It is minutes and hours of terror and anguish."
In the U.S., the NYPD said in a statement that officers have been told to give "special attention" to mosques in the area. Police said they were monitoring the situation in Quebec.
Paris Mayor Anne Hidalgo said the Eiffel Tower would go dark at midnight to honor the victims.
Fox News' Samuel Chamberlain, Ryan Gaydos and The Associated Press contributed to this report.