GAZIANTEP, Turkey – Survivors described it as something akin to a horror movie: babies foaming at the mouth, children choking and victims wailing as their eyes burned.
Those in the rebel-held Syrian enclave of Douma say they immediately knew their region had again been assaulted by chemical weapons -- and something stronger than just chlorine.
Ahmed Saleh, a 26-year-old volunteer with the Syrian Civil Defense -- also known as the White Helmets -- told Fox News that the suspect rockets landed in an area called Al Shohada Square around 7:30 p.m. Saturday.
"There was a strong smell, and we entered one of the shelters to help the civilians there, but I couldn't go all the way because I felt the symptoms of suffocation, difficulty breathing; my tears began to fall profusely," he recalled. "We, paramedics, saw everyone in the shelter lying on the ground. I do not know whether they were dead or alive, but none of them were moving."
Saleh said the first thing he noticed was white foam coming from their mouths. He rushed back out to what he called the "medical point," where other medics issued him "some spray and first aid" before returning to the problem place, some 30 minutes after the apparent chemical onslaught. The rescue volunteers did not have gas masks in their limited supply cache.
"Many people were in the streets trying to get some medical help. We took the most critical cases by a van, making more than eight trips to the medical point," Saleh continued. "While others who could still wave struggled to get there alone."
Yet Saleh, along with other volunteers, struggled drastically to do their lifesaving work.
SYRIA POISON GAS ATTACK KILLS DOZENS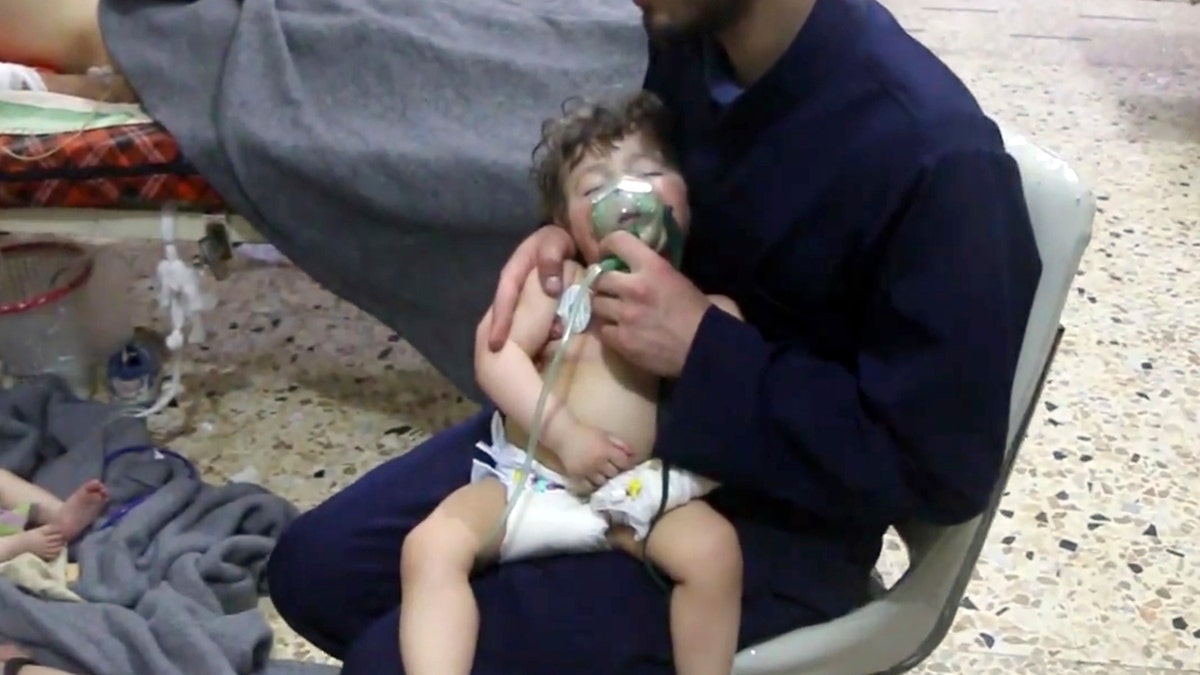 "I could not complete the evacuation of the injured due to increased gas inhalation symptoms," he said sadly. "I was taken to the medical point again and the treatment was given again."
Another distraught Douma resident, 24-year-old Omar al Saleh, said that the rescue efforts are continuing into Sunday night and they are finding "whole families" dead in the horrific aftermath. He said that the death toll has risen to more than 100.
'We have been forced to leave or die, but no one cares anymore.'
"We have been forced to leave or die, but no one cares anymore," he continued. "The chemical weapons are acceptable to the whole world, but it doesn't seem to matter when they kill Syrians."
And Bilal Abu Salah, a 22-year-old media and humanitarian activist in Douma City, told Fox News the attack was met with an eerie quiet as bodies lay motionless on the decimated ground.
"I ran out and saw one body there choking to death," he recalled. "There was one rocket that didn't explode."
After the quiet passed, chaos descended on the battered community.
"We knew it was sarin," another Syrian woman, who asked not to be identified, said hysterically. "We have seen this before."
WARNING: GRAPHIC IMAGES: SYRIA GAS ATTACK
Moreover, local Syrian journalist Hadi Abdullah said that the majority of victims are women and children, with hundreds said to be suffering the side effects.
Other activists are still coming to terms with the painful event.
"Forty were killed immediately in the basements and in the ground floors," Firas al-Abdullah, a prominent media activist, told Fox News. "Later the White Helmets found other dead bodies in the pavements, side streets and the stairs while the victims were trying to escape from the gas... they found new victims today."
And doctors, too, are in dire shortage, as hospitals and medical clinics have been largely targeted in the ongoing civil war.
Dr. Khaled Al Milaji, of the Sustainable International Medical Relief Organization, which provides majority of medical services in the region, told Fox News that their three major health clinics were just moved from Eastern Ghouta to the last opposition stronghold of Idlib over the last several weeks.
"With the last forced evacuation, considerable number of medical staff moved out, the remaining staff can barely handle the very basic health care needs of the besieged population in Ghouta," al Milaji, who is Syrian, said. "Yesterday's attack was a horrible catastrophe and a mark of absence of accountability in the international community."
Al Milaji said that, so far, "the symptoms and number of casualties are compatible with a substance different than chlorine."
"Colleagues are trying to bring more evidence, but the number and impact on people in underground shelter is compatible with sarin gas," he observed.
Medical and rescue groups have pointed the finger at the Bashar Assad regime, which has denied the attack as an outright "fabrication."
At least 42 are reported dead.
And even after the suspected toxic gases fell, residents said regime planes continued to bombard the area with barrel bombs.
"Entire families were killed in the bunkers. I lost the connection with my family because my house is close to the location of the explosion," Bayan Rehan, who recently moved to Idlib, said.
"I couldn't hear anything from them until today morning because of the bad Internet connection. They told me that they had moved an hour before the chemical attack into a bunker which was away from our house; they were lucky to survive."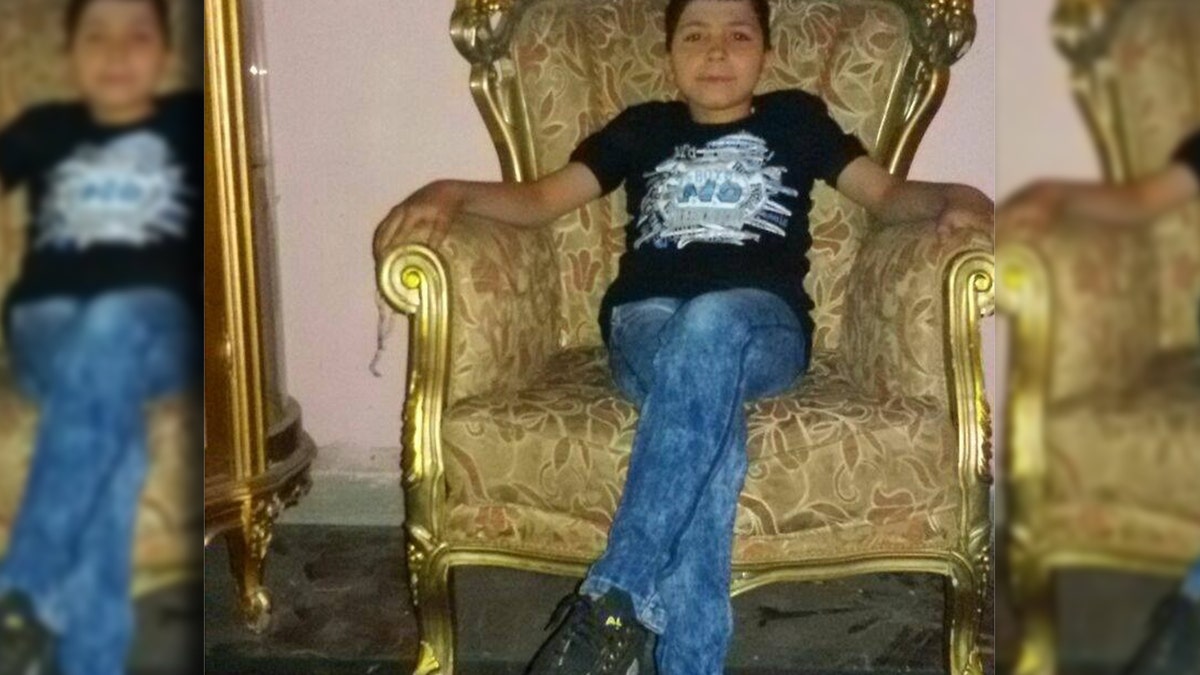 But a day later, the nightmares are going on.
"Today my nephew, 13 years old, was killed in the aerial bombing while he was bringing some food for the other children," she sobbed. "Yesterday he lost his two friends in the chemical attack. He told his grandmother -- my mom -- in the morning that he missed them. Then he was killed after few hours later."
Syrian Brig. Gen. Zaher al-Sakat, once the Bashar regime's chemical weapons chief in charge of such operations before defecting to Europe in 2013, claimed that he was ordered -- from the top -- to use chemical weapons, phosgene and chlorine, on three separate occasions.
He said that the military has been developing deadly agents since the early 1980s and has the ability to deploy both mustard gases and neurotoxins like VX and sarin.
Nerve agents like sarin have a relatively short shelf life, usually no longer than five years. That means that this year or next year are ideal times to deploy chemical weapons that were stored in 2013, possibly before the UN agreement to abolish all stockpiles was signed in 2014.
President Trump tweeted his condemnation on Sunday, calling it a "MINDLESS chemical attack" and threatening a "big price" for "animal Assad" and his Iranian and Russian allies.
Hussain Alkoush contributed to this report.