Suburban Chicago Teenager Killed While Visiting Family in Mexico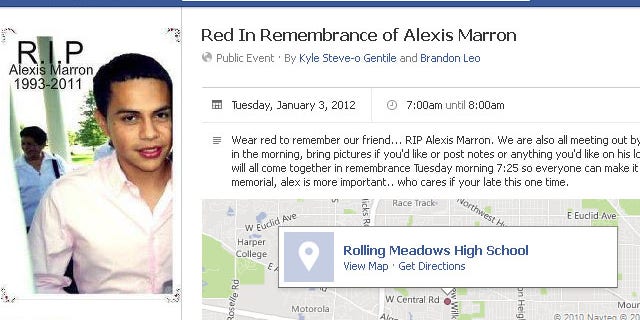 Relatives and friends of a suburban Chicago teenager who officials say was killed over the holiday weekend in Mexico held a memorial in his honor on Tuesday.
Prosecutors in Mexico's Michoacan state said Tuesday that a burned car holding the remains of three young men was found on a roadside on Christmas Eve. An employee of the prosecutors' office who wasn't authorized to be quoted by name says one teen has been identified as 18-year-old Alexis Marron.
The 18-year-old's body was found in the trunk of a burned out car in a small town about 80 miles southeast of Guadalajara on Christmas Eve. Mexican authorities said Marron and two friends were burned alive in an area that's plagued by a gang turf war.
"It was really sad. Everybody is depressed. We just can't get over it -- a terrible, terrible death," said friend Juan Mestizo.
Marron had worked all summer to afford the trip to visit relatives and Jazmin Reyes, his 16-year-old girlfriend whom he had met on the Internet months earlier, the Chicago Tribune reports.
Marron's family typically returned to their native town each Christmas, but they couldn't afford to make the trip this year. Marron was able to save enough money, however, from his summer job as a restaurant server, according to the Tribune.
Dozens gathered Tuesday night in the suburb of Mount Prospect. They carried candles, flowers and balloons. The Daily Herald reports that the group prayed quietly in Spanish.
Marron, a student at Rolling Meadows High School in suburban Chicago, loved spending time with family and "made everyone smile," said friend Joel Muneton.
"I found out through Facebook, and it was shocking," said Andres Montiel. "I've known him since I was like in first grade. It was just really rough."
Fellow students reflected on what the rest of the school year will be like without him. A Facebook page titled "Red in Remembrance of Alexis Marron" was also created in his honor.
"It's gonna be really difficult," Jessica Cruz told MyFoxChicago.com. "He just had a smile on his face. It's gonna be really hard to go back to school and graduate without him being there."
The Associated Press contributed to this report.
Click here for more on this report from MyFoxChicago.com.