Strong typhoon batters southwestern Japan; 28 hurt, bullet trains briefly halted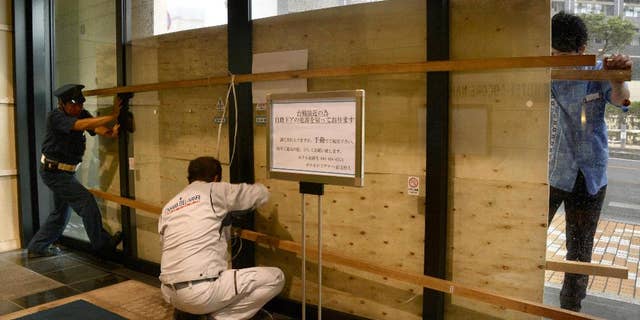 TOKYO – A powerful typhoon poured heavy rains over Japan's southern island of Okinawa and was aiming at the next island of Kyushu on Sunday, becoming the second severe storm to hit in a week.
At least 28 people have been reported injured in Kyushu and Okinawa, where authorities told 150,000 people to evacuate.
Typhoon Vongfong, packing winds of up to 180 kilometers (110 miles) per hour, has been downgraded from a "super-typhoon" and was on course to reach Kyushu by Monday.
Authorities issued landslide warnings and strong winds knocked out power lines, temporarily halting bullet train service for several hours on Kyushu.
Last week's typhoon killed three U.S. airmen who were washed out at sea in Okinawa, home to about half of the roughly 50,000 American troops stationed in Japan.
The U.S. military instructed service personnel and their families to remain indoors Sunday until strong winds and rain subsided, and said crews were out to assess damage.