State Department: 'Very Real Concerns' About Syria's Nuclear Program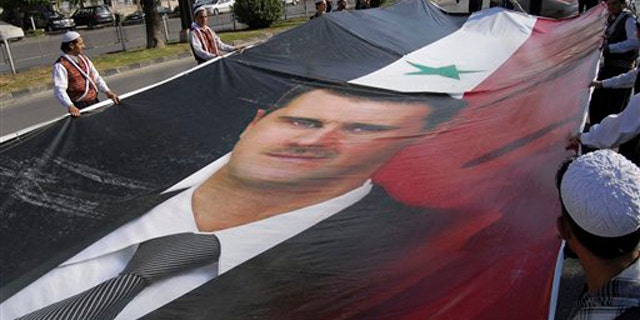 NEWYou can now listen to Fox News articles!
Vienna – The State Department said Wednesday that the international community has "very real concerns" about Syria's nuclear program, as the United States and its allies try to formally report the country's nuclear "noncompliance" to the U.N. Security Council.
The push to raise a red flag over Syria's nuclear program coincides with a campaign by Britain, France, Germany and Portugal to condemn the country in front of the U.N. over Syria's crackdown on protesters.
State Department spokesman Mark Toner said the nuclear threat and the crackdown speak to Syrian President Bashar al-Assad's regime's "ability to snub the rest of the world."
"We've got two problems with Syria on two fronts," Toner said.
Though Iran usually attracts the most international outrage over safeguarding of its nuclear developments, Toner said Syria has done "very little, if nothing at all" to address global concerns about its program.
Despite opposition from China and Russia, the U.S. and its allies are pushing ahead with efforts to bring Syria before the Security Council for failure to cooperate with the International Atomic Energy Agency. A draft resolution would find Syria in "non-compliance with its obligations" with IAEA requirements to allow inspectors access to all nuclear facilities to ensure they are not being used for military purposes.
The draft criticizes Syria's lack of cooperation with "repeated requests for access" by the U.N. nuclear agency to information about a facility at Dair Alzour that appears to have been a nuclear reactor capable of producing plutonium, which is used to arm nuclear weapons. The site was destroyed in 2007.
The draft was circulated Wednesday to the 35 ministers who serve on the IAEA's board of governors. It needs majority approval from the board before it can be sent to the Security Council.
Toner said the draft resolution has 14 other cosponsors.
The IAEA has tried in vain since 2008 to follow up on strong evidence that the Dair Alzour site, bombed in 2007 by Israeli warplanes, was a nearly finished reactor built with North Korea's help.
Drawing on a May 24 report by IAEA chief Yukiya Amano, the resolution expresses "serious concern" over what it calls "Syria's lack of cooperation with the IAEA Director General's repeated requests for access to additional information and locations as well as Syria's refusal to engage substantively with the Agency on the nature of the Dair Alzour site."
Some nations have expressed misgivings about bringing Syria before the Security Council over an unresolved nuclear issue while there is a nationwide crackdown on a revolt against Assad, but diplomats have indicated that a majority should be possible.
But without China and Russia, the question remains whether a majority is enough, given the power of those nations to veto any measures that come before the Security Council.
The Associated Press contributed to this report.