Staffer at treatment center accused of having sex with teen patient who killed family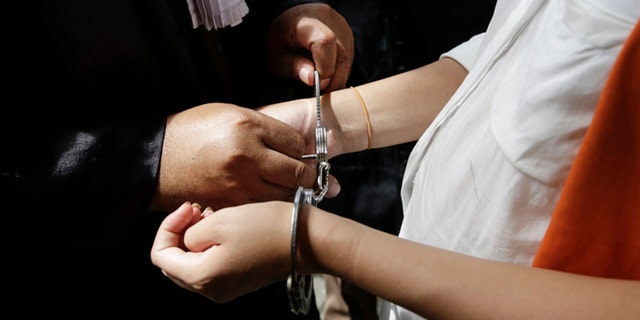 NEWYou can now listen to Fox News articles!
ALBUQUERQUE, N.M. (AP) – A staffer at a New Mexico-run treatment center for troubled youth is accused of having a sexual relationship with a teen who made headlines in 2013 after shooting and killing his parents and three younger siblings.
Amber Lucero, 35, made her first appearance in court Tuesday. She's charged with sexual contact of a minor by a person in a position of authority. It was not immediately clear if she had an attorney.
Lucero works at the Sequoyah Adolescent Treatment Center where Nehemiah Griego — now 19 — had received therapy prior to pleading guilty to charges stemming from the slayings at his family home just south of Albuquerque.
According to a criminal complaint, some of Griego's family members learned of the relationship and reported it last week to administrators at the Albuquerque treatment center.
State Health Department spokesman David Morgan said the allegations are troubling and that the agency, which oversees the center, is taking them seriously.
"DOH placed the employee on leave Monday and we are moving forward with termination," he told The Associated Press in an email. "We have also been cooperating with state police on their criminal investigation and will continue to do so."
Albuquerque television station KRQE first reported allegations about the relationship.
The criminal complaint stated that Griego confirmed for investigators that he was in a romantic relationship with Lucero and that the relationship began in the latter half of 2014.
The two began spending time together. Walks around the facility led to holding hands and kissing, and Griego told investigators that he had touched Lucero's breasts over her clothing.
Griego was reluctant to talk about their relationship because he cared for Lucero and didn't want to get her in trouble, according to the complaint.
When Griego was moved to another facility, authorities said, the two continued to exchange letters.
In an interview with police, Lucero said she believed she loved Griego and that she "weakened" when he asked for a kiss. She went on to say that she overstepped her boundaries by becoming "too much of a friend with him and caring too much."
During Tuesday's court hearing, the judge ordered Lucero not to have any contact with Griego or return to the treatment center.
Griego will remain in state custody until he is 21 as part of a sentence handed down in March for the shooting deaths of his parents and siblings. He was 15 when he opened fire inside the family home. Prosecutors are appealing the sentence.