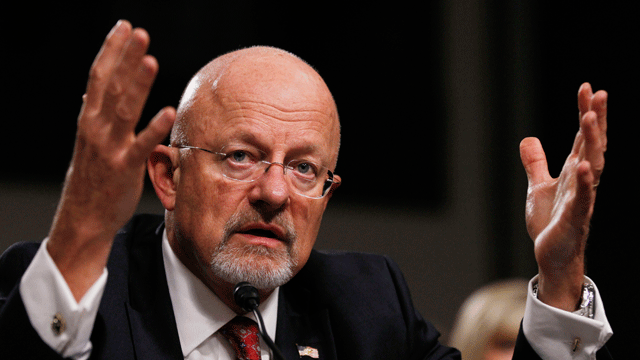 National Intelligence nominee Gen. James Clapper fears North Korea will launch "direct attacks" on South Korea, according to a statement he released Tuesday.
The man nominated to head the American spy network revealed his concerns in a written response to members of Senate Intelligence Committee, AFP reported.
Earlier Tuesday at Clapper's confirmation hearing, the retired Air Force lieutenant said he disagreed with The Washington Post's assertion that the intelligence community was spending too much time working on duplicate reports.
"One man's duplication is another man's competitive analysis," Clapper said.
He said that while the intelligence community had its "flaws" and "legal ambiguities," it was a model that could be made to work.
The director of National Intelligence position was created after the September 11, 2001 terrorist attacks to strengthen and better coordinate intelligence activities.
As part of his responsibilities Clapper would be expected to coordinate the sprawling and often inefficient U.S. intelligence bureaucracy, which includes 16 agencies or programs.
And this includes authority over the director of the Central Intelligence Agency, according to Clapper -- an issue that has been questioned in recent years, CNN reported.
"I would not have agreed to take this position on if I was going to be a titular figurehead or hood ornament," Clapper said.
There needs to be a "clear, defined, identifiable leader" of the intelligence community in order to "exert control over it," he said.
"With all of the discussion about the lack of authority, of the perceived weakness of the office of the director of national intelligence, I believe it already does have considerable authority, either explicit in the law ... or implicit that can be exerted," Clapper said.
"It would be my intent to push the envelope ... on where those authorities could be broadened."
In a written response to questions from members of the Senate Intelligence Committee, Clapper said he feared new violence on the Korean peninsula after South Korea, the U.S. and other nations accused the North of torpedoing the South's navy corvette in March, AFP reported.
The North has denied any involvement on the sinking of the Cheonan, which claimed 46 lives and warned it would retaliate if sanctions were imposed.
"The most important lesson for all of us in the intelligence community from this year's provocations by Pyongyang is to realize that we may be entering a dangerous new period when North Korea will once again attempt to advance its internal and external political goals through direct attacks on our allies in the Republic of Korea," Clapper wrote.
"Coupled with this is a renewed realization that North Korea's military forces pose a threat that cannot be taken lightly," he added.
Clapper, who currently serves as top intelligence adviser to Defense Secretary Robert Gates and as the Pentagon's liaison to the Director of National Intelligence, knows the region well -- he was posted in South Korea in the 1980s.
The U.S. and South Korea recently announced they would hold a major military exercise on Sunday in the Sea of Japan as a warning to North Korea -- the first of 10 such exercises in coming months, according to South Korean reports Wednesday.