Special Riot Force Created In Brazil To Quell Unrest During World Cup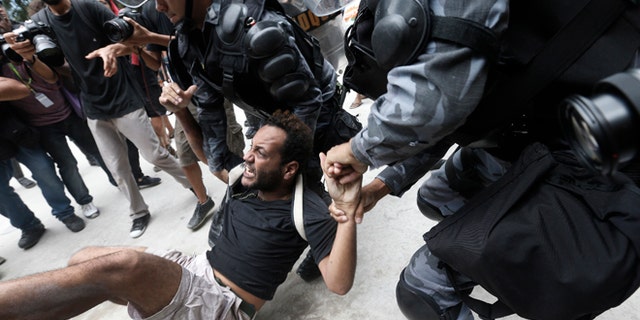 São Paulo (AP) – Brazil has created a special riot force to help police control demonstrations expected during the World Cup later this year.
Col. Alexandre Augusto Aragon, who heads the elite National Security Force, was quoted in local news on Friday as saying that 10,000 riot troops selected from state police forces throughout Brazil will be deployed in the 12 cities hosting World Cup games June 12-July 13.
"We've have been concerned with this (security during the World Cup) before the protests that took place earlier this year, because we don't wait around for things to happen," he told the G1 Internet portal. "The violence of recent protests is what scared us."
Representatives for the Justice Ministry, which oversees the National Security Force, could not be immediately reached for comment.
At the peak of last year's protests, 1 million people took to the streets across Brazil in a single day, complaining initially of higher bus fares, corruption and poor public services, and then extending to the billions of dollars being spent on the World Cup and the 2016 Rio de Janeiro Olympics.
"There will be no World Cup," became one of the mass movement's most popular chants. "FIFA go home" was another.
The demonstrations coincided with the Confederations Cup soccer tournament, a warm-up tournament for the World Cup.
Jerome Valcke, the top FIFA official in charge of the World Cup, said recently that the tournament would have "the highest level of security you can imagine" to contain any violence.
Valcke said he was satisfied with the police response during the protests that affected the six Confederations Cup host cities. The tournament went on as scheduled and none of the matches were disrupted. He said he expects the same type of response if there are protests this year.
The Black Bloc anarchist movement has announced plans for protests of the World Cup, starting with the opening match on June 12 in São Paulo. A Black Bloc Facebook page listed demonstrations for June 13 in Natal, Salvador and Cuiaba, followed by six more protests in six cities on June 14 and 15.
Brazilian authorities have said that they've learned from the demonstrations during the Confederations Cup and will not let protesters get too close to stadiums during the World Cup.
In December, Andrei Augusto Rodrigues, security head for major events at Brazil's Justice Ministry, acknowledged that police misjudged the threat to public safety at Rio de Janeiro in June at the final of the Confederations Cup.
Police used tear gas against protesters outside Maracana Stadium where the final was held. Clouds of tear gas wafting toward the stadium caused vendors at refreshment and souvenir stands to cough and tear up.
Protesters got within 200 yards of the stadium, packed with 70,000 spectators for the Brazil-Spain final.
Follow us on twitter.com/foxnewslatino
Like us at facebook.com/foxnewslatino