Spanish regional government moves to outlaw bull spearing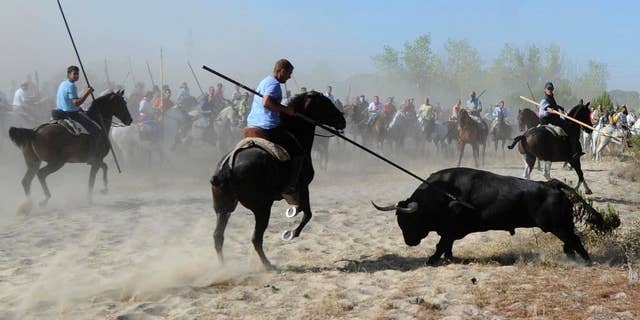 NEWYou can now listen to Fox News articles!
MADRID – A regional government in Spain has outlawed the killing of bulls at town festivals in a measure that likely will stop the animals being speared to death at one of the country's goriest summer events.
The Castile and Leon government's decision will affect the region's annual Toro de la Vega festival, where men on horseback in Tordesillas chase down a bull and spear it in front of onlookers.
The centuries-old event about 200 kilometers (120 miles) northwest of Madrid has drawn increasing protests in recent years, with animal rights activists denouncing it as cruel and calling for a ban.
Regional lawmakers still have to approve the decree issued Thursday, but the government has a majority in the legislature to virtually ensure it passes into law in Castile and Leon.