Spanish military plane crashes near Seville; at least 3 crew members dead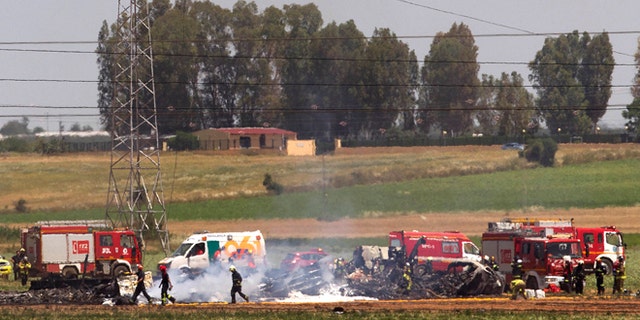 MADRID (AP) – A military transport plane crashed near Seville airport in southwestern Spain on Saturday, killing at least three crew members, officials said.
Spain's Prime Minister Mariano Rajoy said up to 10 crew members were aboard the brand new Airbus A400M aircraft that was undergoing flight trials at the airport.
An Interior Ministry spokeswoman at the scene of the crash told The Associated Press that two injured crew members had been rescued alive and taken to hospitals in Seville, one still conscious and another with serious burns.
She said three bodies have been recovered from the wreckage, which is still being inspected. She spoke on condition of anonymity because her name is not allowed to be cited in the press.
Airbus confirmed the crash in a statement and said the aircraft was intended for delivery to Turkey.
Seville is the final assembly point for the A400M — a large, propeller-driven transport aircraft. First delivered in 2013, some 194 have been ordered by eight countries — including Spain — to replace their aging Hercules fleets.
Britain's Ministry of Defense said Saturday it has suspended use of the Airbus A400M after the crash.
The ministry said use of Britain's two A400M's had been "temporarily paused" as a precaution.
Spain's air traffic controllers said on their Twitter account that the pilots had communicated just before the impact that a fault was affecting the flight. The impact occurred a mile north of Seville airport, they said.
Spain's airport authority AENA said that Seville airport had been closed for just over 1 1/2 hours as its fire crews went to attend the plane crash outside its perimeter fence. Three incoming flights to Seville were diverted to Malaga and Jerez airports, AENA said.
The crash also knocked out power at an industrial estate in the suburb of Carmona, AENA said.
The controllers said one of the flights diverted to Malaga was a transport plane used to deliver aircraft parts for assembly. It had been flying in from an Airbus facility in Hamburg, Germany.
Like us on Facebook
Follow us on Twitter & Instagram