Spanish Banks Halt Evictions After Growing Protests, Two Suicides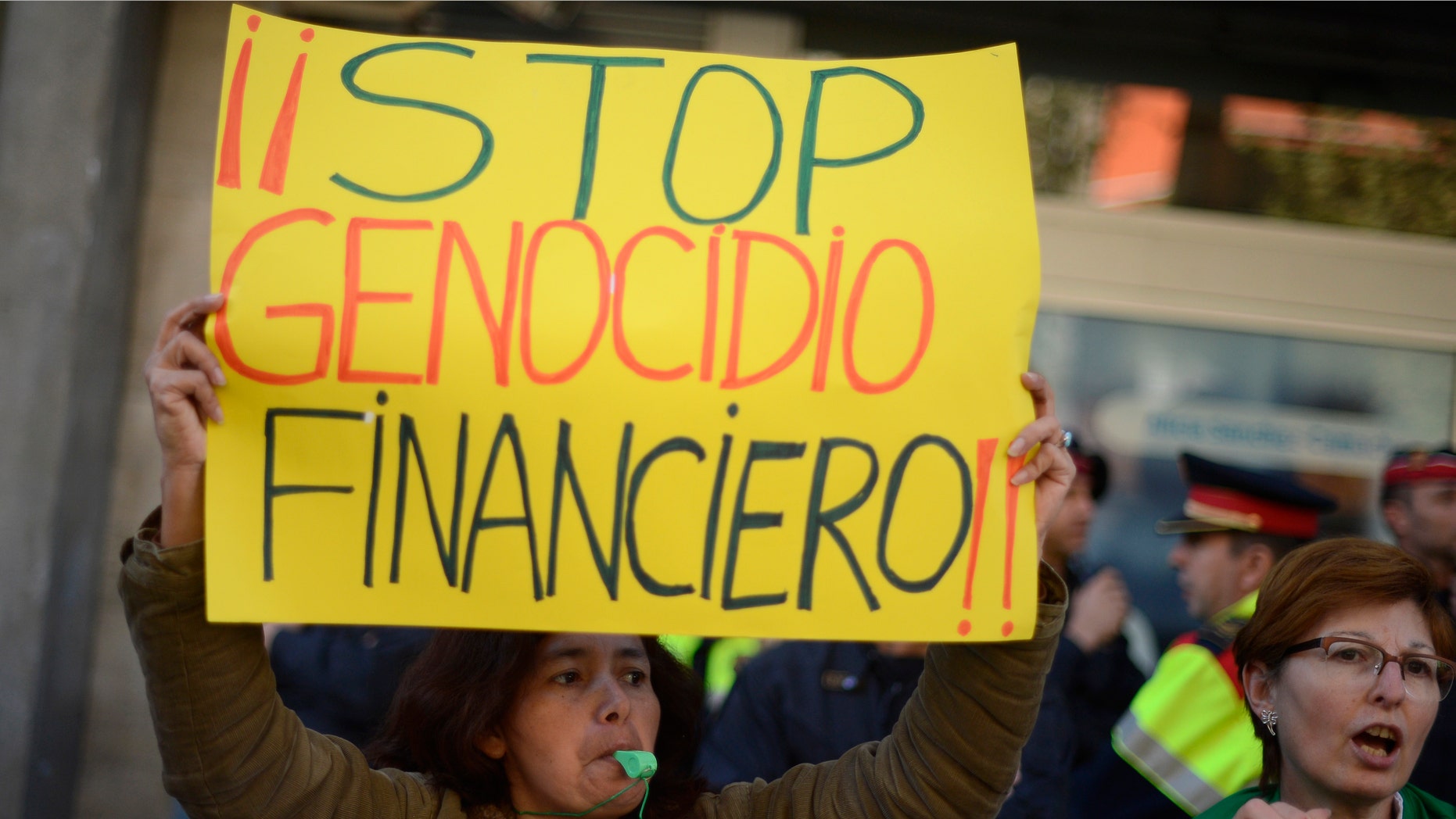 MADRID – Spain's major banks agreed to suspend some evictions of homeowners unable to pay their mortgages after growing protests and at least two suicides.
Hundreds of thousands of Spaniards lost their homes during the crushing economic crisis and two people recently committed suicide, prompting the Spanish Banking Association will offer a two-year halt of evictions for homeowners considered the most vulnerable. The program, however, would only apply to homes with elderly or disabled residents, leaving hundreds of mortgage holders who became unemployed in the last four years without help.
The agreement came as officials from Spain's conservative government held talks with leading Socialist opposition party members to agree on new rules governing evictions.
Public attention on the talks intensified when a person about to be evicted from her dwelling committed suicide Friday, the second such case in about two weeks.
Debate is centered on Spain's unusually tough rules for mortgage holders. Homeowners unable to make monthly payments may be evicted and remain liable to repay whatever value is left on the mortgage after the repossession.
More than 350,000 people have lost their homes in this way over the past four years, many because they have lost their jobs or seen their wages plummet due to the crisis.
By comparison, people in the United States who default can return the keys to the bank and walk away from their debt.
Speaking in Brussels on Monday, Spanish Economy Minister Luis de Guindos said his government aims "to introduce measures that ensure that no family acting in good faith will end up homeless because of the crisis. That is the commitment."
Regarding the eviction of indebted homeowners, he said: "I'm absolutely convinced that banks are interested in not having anyone's house. Therefore, I'm also convinced that everybody is going to make an effort to solve an important problem. Logically the bank system is going to do it."
The minister pointed out that the eviction crisis comes at a time when Spain has 1 million empty houses whose owners cannot find buyers, chiefly because banks are reluctant to give loans.
The Spanish bank group said it made its decision following talks with government officials last week. It added that it wants "to help alleviate the situation of helplessness that many people are suffering owing to the economic crisis."
It said that pending new government measures, cases likely to be covered by the decision would include houses with people who have serious illnesses or disabilities and those with very elderly people. It made no mention of people who had lost their jobs.
Earlier, Angel Ron, president of Spain's Banco Popular, warned against letting any new measures open the door to more people defaulting because they feel protected.
On Monday, the evictions of at least two couples in Madrid and one in eastern Valencia were called off. As in other cases, crowds of protesters had gathered outside the apartment buildings to try to prevent police and court officials from entering. The protest movement has gathered momentum nationally in recent years as the dramatic impact of the repossessions has increasingly angered Spaniards.
Spain is in its second recession in three years following a property crash in 2008. The government predicts its economy will not grow until 2014. Unemployment is at 25 percent, the highest among the 17 nations using the euro currency.
Spain's General Council of the Judiciary, a police union and opposition parties have all come out in recent days to demand new legislation to end the widespread evictions.
Last week, the European Court of Justice's advocate general, Juliane Kokott, said Spain's rules regarding evictions are at odds with European Union customer protection requirements.
Prime Minister Mariano Rajoy later pledged to begin work on agreeing to necessary modifications.
Based on reporting by the Associated Press.
Follow us on twitter.com/foxnewslatino
Like us at facebook.com/foxnewslatino