Spain allows oil drilling off Canary Islands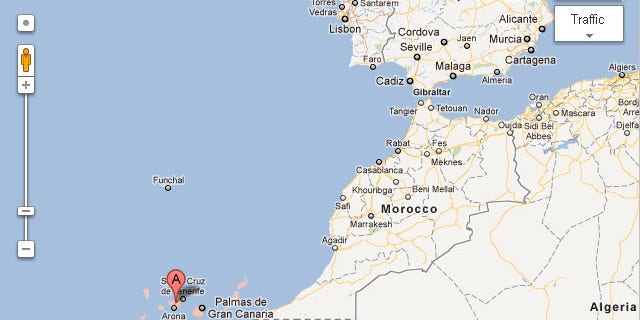 MADRID – The Spanish government on Friday authorized oil drilling off the Canary Islands, one of Europe's most popular tourist destinations, in a bid to ease the struggling country's expensive dependence on crude imports.
Spain imports more than 99 percent of its oil, the price of which has risen sharply in recent weeks, hurting the country just as it faces another recession and record unemployment.
Deputy Prime Minister Soraya Saenz de Santa Maria said the permit to drill off the Canary Islands, which receive some 9 million visitors a year, would go to Spanish company Repsol YPF SA.
The company said the site it is eyeing off the island of Lanzarote could mark the biggest hydrocarbon find in Spanish history. It will do an environmental impact study first and expects to start drilling in two years or so.
The new operation will be a resurrection of a plan first approved in 2001, also by the conservative Popular Party now in power. The Canary Islands regional government sued then and the Supreme Court annulled the permit on a technicality, in 2004. When Repsol refiled its plan, Socialists had taken power in Madrid and shelved the blueprint.
The two wells Repsol plans to drill 35 miles east of the Canary island of Lanzarote could yield as much as 100,000 barrels of oil per day, Spanish media have reported.
Spain is under intense pressure to reduce its deficit and convince international investors that its economy can return to growth, become competitive, and deal with the painful fallout of a burst real estate bubble.
Among the latest measures to raise money, Saenz de Santamaria said the government would shut down 24 state-owned companies and divest stakes in another 50.
Some were obsolete, such as advertising campaigns for national gastronomy or the 1992 Summer Olympic Games in Barcelona, with a few counting more board members than employees.
Official figures released Friday showed that despite Spain's austerity measures, the national debt load keeps growing as the economy struggles.
The Bank of Spain said national debt stood at 68.5 percent of GDP at the end of 2011, the highest ratio since 1995.
This marked a 2.5 point increase from the third quarter of 2011. At the close of 2010 it was 61.2.
Spain's debt percentage is well below the EU average but its borrowing costs are higher due to concerns about its economic outlook.
The debt load, which includes regional and local debt, was $960 billion (euro735 billion) at the end of 2011.
Debt owed by the 17 semiautonomous regions shot up 17.2 percent last year. The worst-off was Catalonia, the wealthy and powerful northeast region whose capital is Barcelona. It accounted for nearly a third of all regional debt.