South Sudan proposes binding international arbitration to resolve border disputes with Sudan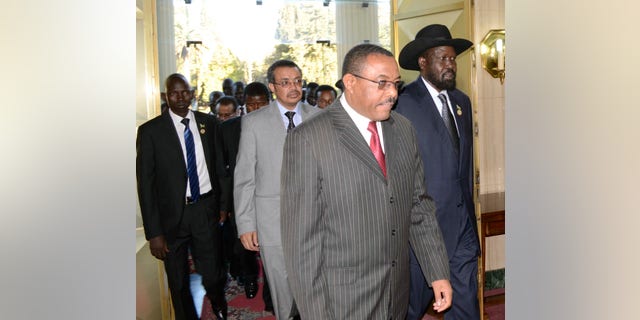 NEWYou can now listen to Fox News articles!
ADDIS ABABA, Ethiopia – A South Sudan official says the country's president is going to propose the use of binding international arbitration to resolve a border dispute with Sudan.
Leaders from Sudan and South Sudan arrived in Ethiopia on Friday to revive stalled deals signed in September. The deals paved the way for South Sudan to restart oil exports through Sudan's pipelines, but so far exports have not resumed.
South Sudan chief negotiator Pagan Amum said South Sudan President Salva Kiir and Sudan President Omar al-Bashir were expected to meet late Friday.
Amum said international arbitration could help the countries peacefully resolve disputes, but that they would have to agree on the details.
He said he doubted talks this weekend would prompt any breakthroughs. He also accused Sudan of recently bombing South Sudan territory.