South Korea restarts propaganda broadcasts aimed at North after nuke test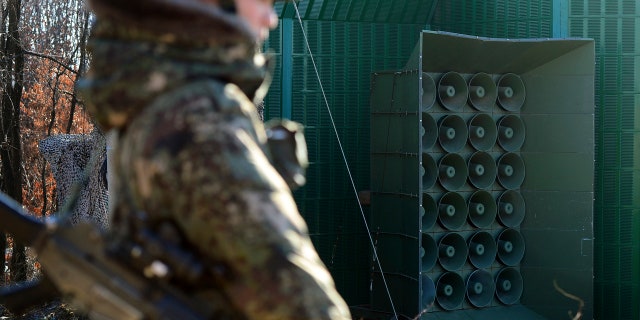 NEWYou can now listen to Fox News articles!
South Korea responded to North Korea's fourth nuclear test Friday by restarting cross-border broadcasts of anti-Pyongyang propaganda, a move expected to draw a furious response from the North.
North Korea considers the broadcasts an act of psychological warfare. Pyongyang is extremely sensitive to any outside criticism of the authoritarian leadership of Kim Jong Un, the third member of his family to rule. When South Korea briefly resumed propaganda broadcasts in August after an 11-year break, Seoul says the two Koreas exchanged artillery fire, followed by threats of war.
There was no immediate reaction by the North, but its response could be especially harsh because of the high emotions surrounding Friday's likely birthday of Kim, who is believed to be in his early 30s. North Korean military forces often compete to show their loyalty to the leader. The North's state media has yet to mention Kim's birthday or South Korea's loudspeaker campaign.
South Korea's Yonhap news agency reported that frontline troops, near 11 sites where propaganda loudspeakers started blaring messages at noon (10 p.m. Thursday ET), were on highest alert. Yonhap said Seoul had deployed missiles, artillery and other weapons systems near the border to swiftly deal with any possible North Korean provocation. South Korea's Defense Ministry couldn't confirm the reports. South Korean military banned foreign media from the border ahead of the broadcasts.
The broadcasts include popular Korean pop songs, world news and weather forecasts as well as criticism of the North's nuclear test, its troubled economy and dire human rights conditions, according to Seoul's Defense Ministry. Included are songs by a young female singer, IU, whose sweet, girlish voice might be aimed at North Korean soldiers deployed near the border.
August's broadcasts, which began after Seoul blamed Pyongyang for land mine explosions that maimed two South Korean soldiers, stopped only after the rivals agreed on a set of measures aimed at easing anger.
Later Friday, South Korea was to announce the results of its first round of investigations of samples collected from sea operations to see if radioactive elements leaked from the North's claimed test of a "miniaturized" hydrogen bomb, according to the Korea Institute of Nuclear Safety.
The Associated Press contributed to this report.