South Korea proposes talks with North on jointly-run factory park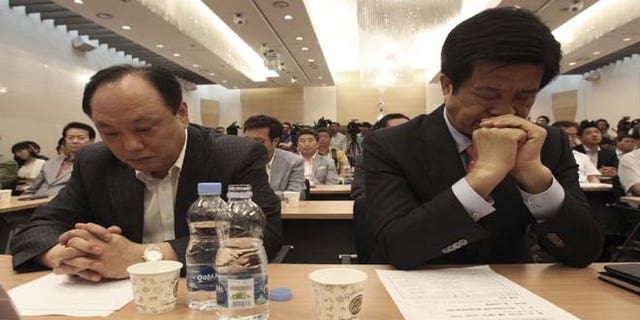 SEOUL – South Korea's government said Thursday that it has reached out to North Korea to discuss restarting a jointly run factory park after weeks of testy silence between the two sides.
The industrial complex in the North Korean city of Kaesong, just north of the Demilitarized Zone dividing the two Koreas, has been shut since a political showdown in April.
As South Korea held military exercises with the U.S. not far from the border, North Korea pulled its 53,000 workers in protest. South Korea then ordered its managers to leave as well, against their wishes.
The closing of Kaesong, the centerpiece of joint projects hatched during a previous era of warming ties between the wartime foes, dealt a symbolic and financial blow to the Korean Peninsula. The project had been the last reconciliation project left as relations soured over the past five years.
On Thursday, South Korea said it proposed holding working-level talks with North Korean officials in the truce village of Panmunjom inside the DMZ.
Seoul wants to set the grounds for discussions on restarting the idled factory park, as well as ways to manage the facilities and goods that South Korean businesses left behind. South Korea proposed holding talks Saturday, the Unification Ministry said.
There was no immediate response from Pyongyang.
However, Seoul's proposal follows North Korea's announcement Wednesday saying it would allow visits to Kaesong by South Korean business managers seeking to move their goods and equipment out of the park.
Pyongyang previously had refused the South Koreans permission to cross the border into Kaesong to check on their idled factories.
The two Koreas had tried last month to hold talks on Kaesong. The high-level talks, to be held in Seoul, would have been the first Cabinet-level meeting in years. But the plans broke down over a protocol issue.