South Korea president's plane blacklisted by US after North Korea flight, reports say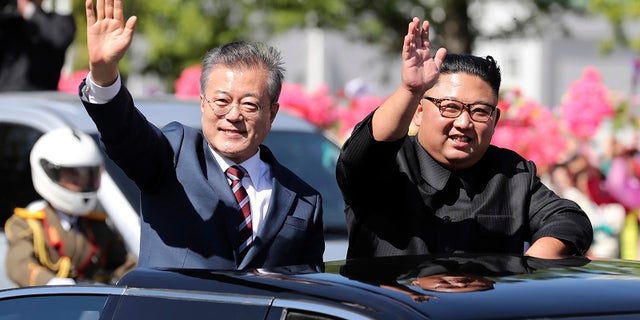 An act of diplomacy on the Korean Peninsula reportedly led to a brief -- but inconvenient -- ban that temporarily barred South Korea's leader from coming to America.
South Korean President Moon Jae-in's plane was reportedly blacklisted by the United States because it transported him to North Korea amid a thawing of tensions on the Korean Peninsula.
The surprising blacklist was a result of an executive order signed in 2017 by President Trump that expanded sanctions on North Korea. Under the order, no ship or aircraft could enter the United States for 180 days after traveling to North Korea.
There can be exceptions, however.
KIM JONG UN 'UNIFICATION MOISTURE NUCLEAR MASKS' TAKEN OFF SHELVES AFTER OUTCRY, BUT DEMAND IS STILL HIGH
But as a result of the North Korea-related blacklisting, a U.S. official told Chosun Ilbo that Moon's aircraft needed the authorization to travel to the U.S. in September during a flight to the U.N. General Assembly in Argentina. Chosun Ilbo reported the aircraft was planning to make a mid-point stop in Los Angeles to refuel and meet with Korean-Americans but the plane was forced to reroute to the Czech Republic due to the ban.
A South Korean official, speaking to Chosun Ilbo, denied any assertion the plane wasn't permitted to land in Los Angeles.
AMERICAN DETAINED IN NORTH KOREA DEPORTED BACK TO US, OFFICIAL SAYS
"The change in midway stopover point from Los Angeles to the Czech Republic has nothing to do with any sanctions," the official said. "A presidential aircraft being blacklisted is nonsense."