South Korea extending missile range to reach North Korea in latest spat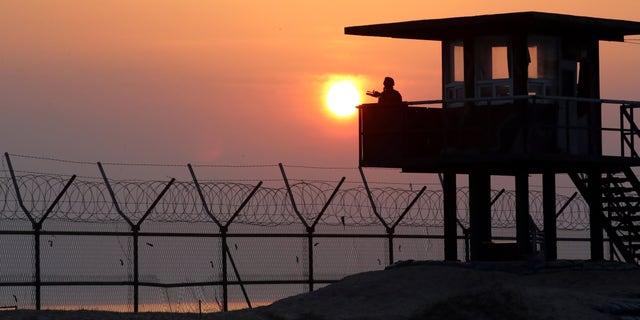 South Korea has tested a new ballistic missile with a range of 310 miles and it plans to extend the missile's range to nearly 500 miles-- allowing it to strike any site in North Korea, its defense ministry said Friday.
"We test-fired it, and we succeeded," ministry spokesman Kim Min-seok told reporters Friday about the 310-mile missile test. "And we're going to make 800-km (497 mile) missiles," Kim added.
Kim said the new missiles will be used to strike the North's weapons and military installations in the farthest part of the country, from any location in the South if necessary, Reuters reported.
South Korea had respected a voluntary ban on developing ballistic missiles with a range of more than 185 miles under an agreement with the U.S., but in 2012, the allies agreed to allow the South to develop 800 km-range missiles.
Friday's missile test is the latest muscle flexing between the Koreas in recent weeks. Last week, Pyongyang fired a mid-range ballistic missile that fell into the sea off its east coast, after flying about 400 miles—less than its maximum range, thought to be more than 800 miles-- far enough to hit much of Japan.
Also this week, North Korea fired more than 500 rounds of artillery into the sea off its west coast near a disputed maritime border, some landing in the waters of the South, which retaliated with more than 300 rounds fired into the North's waters.
South Korea is also investigating two small drones that crashed near its border with the North which it believes were flown by Pyongyang. South defense officials say the low-tech drones were equipped with Japanese-made cameras capable of taking only still photos that cannot be transmitted in real time but must instead be retrieved.
One drone was recovered with evidence of having flown directly over the capital Seoul and its surroundings, including the presidential palace.
North Korea's state media hasn't made any comments on the drones, but it said last year that leader Kim Jong Un had supervised a drill of "super-precision" drone attacks on a simulated South Korean target.
Although the North has one of the world's largest standing armies, much of its equipment is believed to be of outdated Soviet-era design. It has focused resources on developing nuclear and long-range missile programs. The U.N. has imposed sanctions on the North for its missile tests.
North and South Korea technically remain at war, since the 1950-53 Korean War ended in a truce, rather than an armistice.
The Associated Press contributed to this report.