South Africa municipal workers threaten strike over pay and graft, piling pressure on economy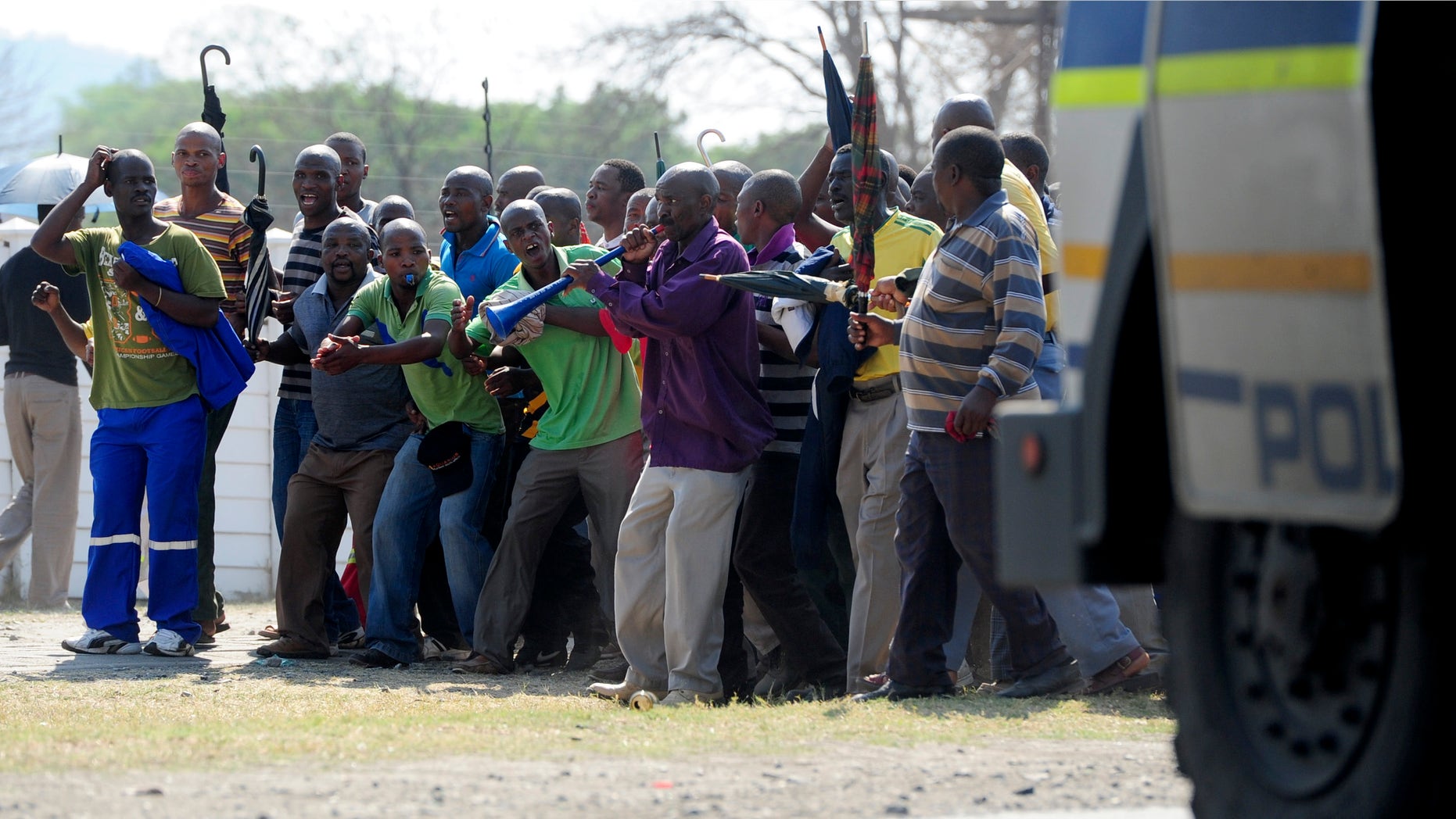 JOHANNESBURG – Some 200,000 workers across South Africa will stop working later this week to protest official corruption and poor pay, a spokesman for the South African Municipal Workers' Union said, in action that will increase pressure on an economy already reeling from the impact of wildcat strikes in the crucial mining sector.
The soon-to-be striking workers have no specific wage demands but hope to force President Jacob Zuma's government to put in place "a proper wage structure" so that jobs and associated salaries are properly graded, said Tahir Sema, the spokesman of the municipal workers' union, on Monday.
South Africa has up to 300,000 municipal workers, according to Sema, who denied they were inspired by strikes over low pay that have spread across South Africa since August.
"The workers feel that they deserve more," Sema said. "This is about ensuring pay parity in the sector."
Citing the impact of unresolved strikes in the crucial mining sector, the credit rating agencies S&P and Moody's have downgraded South Africa's credit rating. In cutting South Africa's long-term sovereign credit rating from BBB+ to BBB last week, S&P said the outlook of Africa's largest economy was not positive.
"The negative outlook reflects our view that the medium-term political, economic, and fiscal ramifications of South Africa's social tensions could deteriorate beyond our current expectations," the agency said. "The difficulty of addressing economic and social imbalances could be exacerbated by increasing external pressure in the context of sluggish global growth or investor risk aversion."
About 80,000 mineworkers, representing 16 percent of the mining workforce, are currently striking across South Africa. It remains unclear how these strikes will be resolved, with some employers declaring them illegal. The strikes have been marred by violence, most notably an incident on Aug. 16 when police shot and killed 34 miners at a platinum mine in Marikana, northwest of Johannesburg. Analysts say the Marikana strike may have motivated strike action by mineworkers elsewhere, as the Marikana miners in the end succeeded in winning a hefty 22 percent pay raise.
The mining operations in Rustenburg of Anglo American Platinum, the world's top producer of platinum, have come to a standstill since thousands of mineworkers there went on strike. When the company dismissed 12,000 of the striking workers, some of them threatened to make the mines ungovernable. At least two people were killed in violence there last week.
The wave of violence at some of the mines has been exacerbated by rivalry between unions, with many workers rejecting the established bodies, such as the National Union of Mineworkers, for more upstart unions.
The struggle for supremacy among unions, not low wages, is the "root cause" of labor unrest in the mining sector, according to Solidarity Research Institute, a local think tank.
"In essence it is an undemocratic winner-takes-all system," the group's Piet le Roux said of South Africa's labor-relations law. "It gives the majority trade union the right to negotiate with the company on behalf of all workers and to enter into binding agreements. In the process, minority unions are being excluded and the position of the large unions is entrenched against smaller unions and newcomers in trade unionism."