Somalia forces shoot dead 2 militants in attack near airport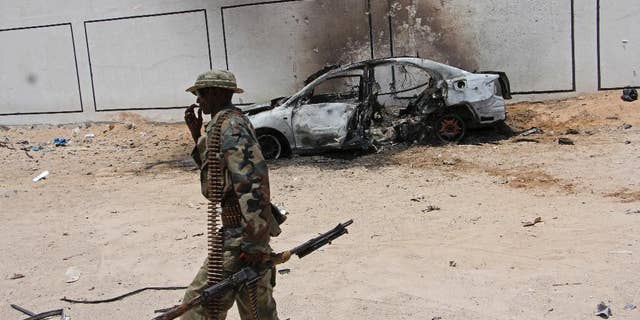 NEWYou can now listen to Fox News articles!
MOGADISHU, Somalia – A Somali police officer says security forces shot dead two Islamic extremist fighters who were involved in a mortar attack in the Somali capital early Sunday.
Capt. Mohamed Hussein said security forces pursued and clashed with armed men who had fired mortar shells near Mogadishu's international airport. He said two of the insurgents were killed.
He said the attackers detonated a minibus they were travelling in. No other casualties from the blast have been reported.
Al-Shabab, which is allied to al-Qaida, has claimed the responsibility for the mortar attack.
Al-Shabab, Somalia's homegrown extremist group, has lost some of its territory under pressure from the African Union force, which numbers more than 22,000, and from Somalia's security forces. But al-Shabab continues to carry out deadly attacks in the capital and elsewhere.