Somalia explosion: Car bomb rocks Mogadishu, at least 8 killed outside cafe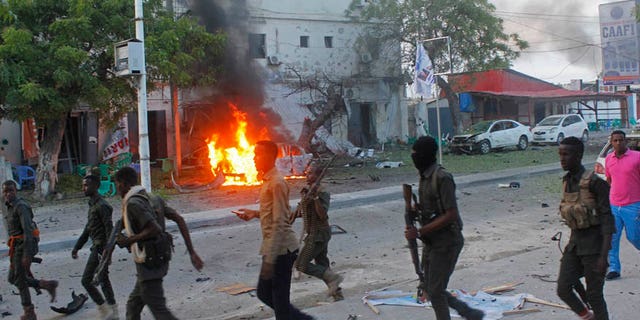 At least eight people -- including a Somali general -- were killed Monday when a car bomb exploded at a cafe in Mogadishu, the nation's capital, officials said.
Al Shabab, Somalia's homegrown Islamic extremist rebels who are linked to Al Qaeda, claimed responsibility for the attack.
"We are behind the blast," Sheikh Abdiasis Abu Musab, the group's military operations spokesman, told Reuters. "The targets were police, intelligence, military officials and immigration workers."

Capt. Mohamed Hussein told the Associated Press the car bomb parked outside Bar Italia was detonated near people sitting outside the cafe, which is close to Somalia's immigration department.
Government officials told VOA News that General Abdi Bashir Aden was among those killed, while 10 others were injured. Reuters reported that eight people were killed in the blast.
A seperate witness to the explosion told Reuters there was gunfire after the explosion, and huge clouds of smoke could be seen from the area.
US NAVY SEAL KILLED IN SOMALIA IDENTIFIED AS 15-YEAR VETERAN
The regional leader of Al Shabab was killed in a raid by Somali forces on Friday.
A statement Sunday by Somalia's information minister said Lower Shabelle regional leader Moalin Osman Abdi Badil and three associates were killed in Bariire village.
SOMALIA SAYS REGIONAL AL SHABAB LEADER IS KILLED IN RAID
The raid came a day after Senior Chief Special Warfare Operator Kyle Milliken, a 38-year-old Navy SEAL, was killed while supporting an operation by Somalia's military in the same area west of Mogadishu. The Pentagon called it the first U.S. combat death in Somalia since 1993.
Both Somalia and the U.S. are stepping up efforts against Al Shabab, which has carried out attacks in other parts of East Africa and continues to target the Somali capital with deadly bombings.
The Associated Press contributed to this report.