Slain Texas biker in Waco melee was a Vietnam veteran with a Purple Heart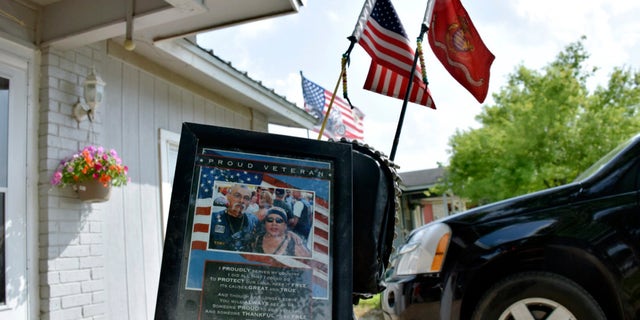 Jesus Delgado Rodriguez's family remembers him as the family man who loved to ride motorcycles.
With his signature mohawk hair style and a long mustache, the 65-year-old was a constant presence in bike events and rallies all over the state of Texas.
"You can ask anybody and they could probably pull up a picture of him at an event," his son Vincent Ramirez told MySanAntonio.com.
Rodriguez, a Vietnam veteran who received the Purple Heart after serving as an active duty Marine from 1969 to 1973, was one of the nine bikers killed in a melee outside a Central Texas restaurant on Sunday.
His family found out about his sudden death once reporters showed up to their home once the identities of the bikers killed were released.
Rodriguez's family contradicted police claims that all nine bikes who died were members of criminal gangs, saying the Marine vet did not have a violent bone in his body.
"He never carried a weapon," Ramirez told MySanAntonio of his father. "He didn't believe in guns. He didn't even own a gun. The ones he did own he got rid of years ago."
Instead he believed in the brotherhood he found within the biker community, who called Rodriguez "Mohawk."
"He detested violence," Rodriguez's son-in-law Amado Garces said. "He loved what the biker clubs and what everyone he rode with stood for."
On Wednesday, Rodriguez's Harley-Davidson stood outside of his home with a bouquet of red, white and blue flowers fixed to the handlebars. A second bouquet was placed on the seat while an American flag and a U.S. Marine Corps flag were on the rear of the bike.
According to reports, Rodriguez rode as a member of a club called the Cascabeles, a couples club that allowed both men and women to join — he liked to ride alongside his wife Mary. When it was disbanded he joined the Talons, which also allowed couples.
This club disbanded as well, in early 2015.
Ramirez said his father was not an outlaw and belonged to clubs that were for couples as his wife Mary rode with him.
"He hung out with Bandidos, and had many friends in many bike clubs," he said, adding that his love for bikes only intensified when he retired. "Once he turned 60, he was on the road. (He and his wife) were all over Texas."
Rodriguez was not part of a club when he was shot on Sunday, his son said.
"It didn't matter who he was with, he just loved to ride," Ramirez added.
Mary had other commitments on Sunday so she could not have accompanied her husband to the event at the Twin Peaks restaurant.
Jose Ochoa, a friend and former member of the Cascabeles called Rodriguez a "good man."
"If he didn't know you, he would go up to you and make a friend out of you," he recalled.
In the Sunday incident 18 were injured and more than 170 people were arrested, with authorities fearing retaliatory acts of violence.
Rodriguez is survived by seven children, 19 grandchildren and 4 great-grandchildren.
Like us on Facebook
Follow us on Twitter & Instagram