Skydive Dubai propeller aircraft runs off runway; unclear if there are any injuries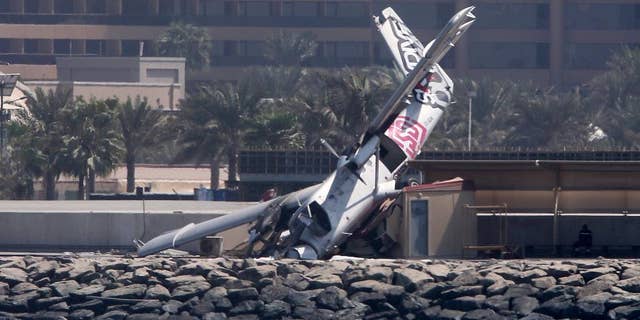 DUBAI, United Arab Emirates – An aircraft belonging to a Dubai skydiving company has run off a runway, but it's unclear if there are any injuries in the crash.
An Associated Press reporter saw the Skydive Dubai propeller aircraft at the end of its runway in the Dubai Marina where it crashed on Friday, its nose tipping down over the breakers running along the water.
Two guards at Skydive Dubai blocked the AP from the crash site and declined to take a request for comment. Telephone numbers for the business rang unanswered.
Skydive Dubai operates a prominent drop zone near the Dubai Marina and the Gulf city's famous man-made Palm Jumeirah island. In July, one of its planes carrying 15 passengers was forced to make an emergency landing shortly after takeoff over a technical problem.