Sheriff Arpaio's lawyer objects to Arizona judge's 'unorthodox' questioning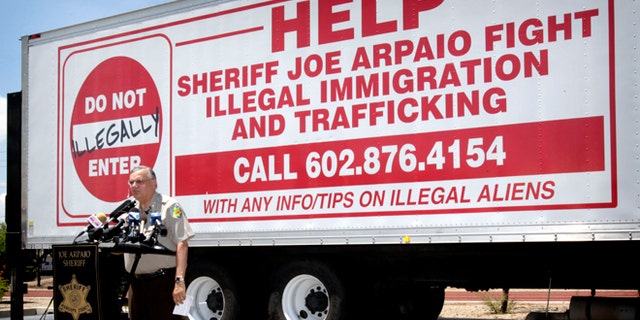 NEWYou can now listen to Fox News articles!
PHOENIX (AP) – Lawyers for Arizona Sheriff Joe Arpaio have objected to questioning of the lawman by a federal judge about a secret investigation into the judge's wife.
Attorney Michele Iafrate has filed an objection to the "unorthodox process" that saw U.S. District Judge Murray Snow question Arpaio from the bench last week during a contempt of court hearing.
Iafrate argued in a motion filed Tuesday that the sheriff should have been given notice about the line of questioning so he could have prepared answers.
"The court nor any other party previously provided it to defendants nor gave notice that defendant Arpaio would be questioned about it," Iafrate wrote.
Arpaio testified that he believed his then-attorney had hired a private investigator to investigate Snow's wife for purportedly making a comment about the judge not wanting the sheriff to get re-elected in 2012.
The disclosure came as Arpaio testified in the contempt hearing convened after he acknowledged disobeying Snow's 2011 order to stop immigration patrols as part of a lawsuit over racial profiling by the sheriff's office.
Arpaio's second-in-command, Jerry Sheridan, testified Friday that an interview was conducted of the woman who provided the tip to the six-term sheriff about the judge's wife, and the investigation didn't go any further.
Snow has ordered that all records into the investigation, including electronic data, funding, phone records, emails and reports, be immediately placed on hold and handed over to a court-appointed monitor.
Iafrate, meanwhile, wants an opportunity for the defense to review more than 3,300 pages of related documents that were to be turned over to the monitor. The lawyers want to scan for potentially privileged information.
It's unknown when Snow will rule in the contempt case. He has raised the possibility of holding more hearings in June.
It also is unclear what consequences Arpaio might face over the secret investigation. Federal law prohibits trying to intimidate or inappropriately influence a federal judge.
The U.S. Attorney's Office and FBI haven't responded to questions about whether the agencies are examining Arpaio's disclosure that his office was behind the investigation of Snow's wife.
Like us on Facebook