Shell shuts major Nigeria pipeline due to leak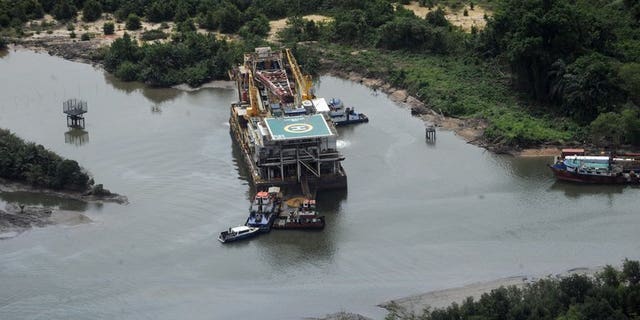 LAGOS (AFP) – Shell has shut a major pipeline in Nigeria for the second time in less than a month after locating another leak on the line repeatedly hit by oil thieves, the company said on Friday.
The shutdown of the Trans Niger Pipeline will result in a cut of about 150,000 barrels of oil per day in Africa's biggest oil producer. Nigeria's total output has been at around two million barrels per day.
The joint venture Shell operates in Africa's biggest oil producer on Thursday "shut in the 24-inch Trans Niger Pipeline (TNP) as a result of a confirmed leak on this line at the Bomu-Bonny section at Owokiri," it said, naming an area of southern Nigeria.
"With the 28-inch TNP already shut in for removal of illegal oil theft connections, a total of about 150,000 barrels per day of oil have been deferred."
The British-Dutch company said details were unclear on the latest incident, "but the TNP has been variously targeted by crude oil thieves in recent months and shut down several times to enable the removal of theft points."
Crude oil theft is a major problem in Nigeria, with estimates that the country loses some $6 billion in revenue per year as a result.
Such theft can involve thieves tapping pipelines to syphon crude for sale on the lucrative black market. It can lead to explosions, fires and oil pollution.
The International Energy Agency said on Thursday in its monthly review of the oil market that the theft of oil from pipelines in Nigeria had damaged infrastructure, and was one factor in a fall of output by the Organization of Peteroleum Exporting Countries (OPEC) of which Nigeria is a member.