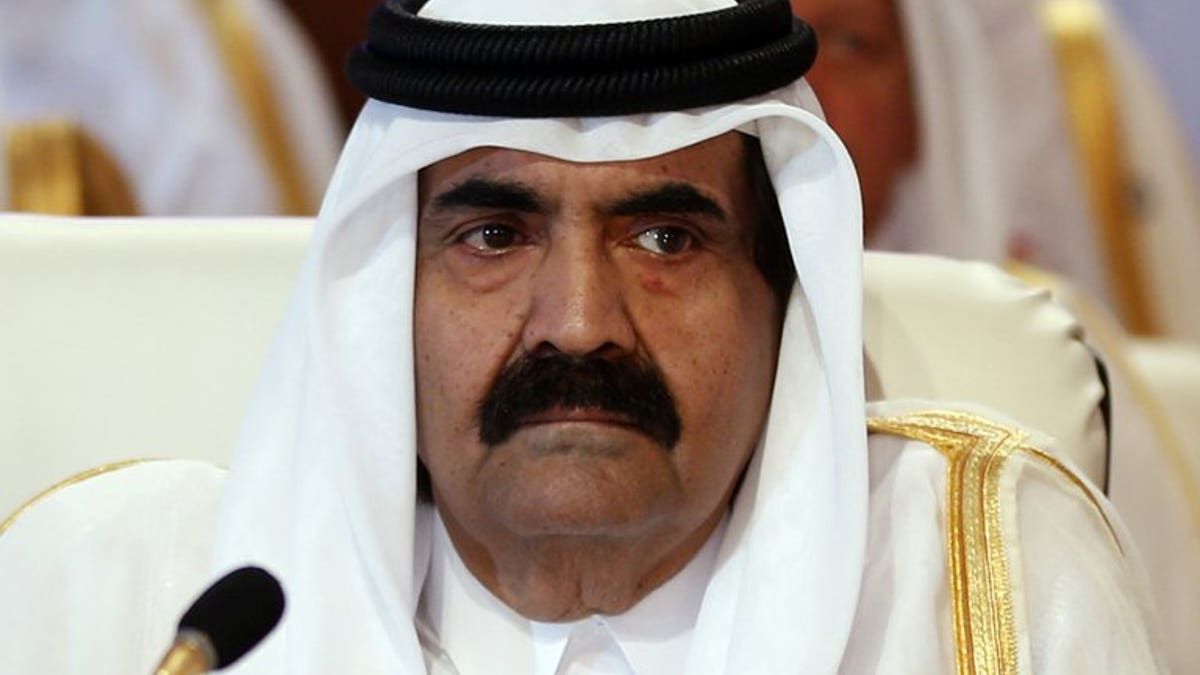 DOHA (AFP) – Qatar's emir, Sheikh Hamad bin Khalifa al-Thani, who is to hand over to his son on Tuesday after 18 years on the throne, turned the tiny Gulf state from a desert backwater into a major world player.
The 61-year-old Sheikh Hamad suffers from kidney problems but diplomats say that is not why he is abdicating in favour of the 33-year-old Sheikh Tamim.
Hamad, whose autocratic government was a major backer of the Arab Spring uprisings of 2011, is keen to hand over of his own accord, a rarity in a region where leaders generally seek to hang onto power for life.
It is a far cry from his own accession to the throne in June 1995, when he overthrew his father, Sheikh Khalifa bin Hamad al-Thani, in a palace coup.
He had to weather a coup attempt himself, allegedly instigated by the deposed emir in February the following year, before he could consolidate his grip on power.
Son and father eventually reconciled and settled a multi-billion-dollar financial dispute.
Hamad inherited virtually empty state coffers but he had a vision to turn the emirate into an economic powerhouse by developing its then untapped gas reserves, the third largest in the world.
By 2010, annual production capacity of liquefied natural gas had reached 77 million tonnes, helping to give Qatar the largest per capital income in the world.
It population of 1.87 million, less than 250,000 of them citizens, has seen its per capita income shoot up to $86,440 a year.
"When he came to power in 1995, Sheikh Hamad had a goal to place Qatar on the world map by exploiting the gas resources which his father Sheikh Khalifa did not develop for fear it would change the emirate's society," said French journalist Olivier Da Lage.
"Eighteen years on, he has finished the job -- Qatar has acquired the financial clout to command respect from neighbouring countries and Western governments alike," said Da Lage, who has written extensively on the emirate.
Under Hamad's rule, the Qatar Investment Authority, the emirate's sovereign wealth fund, invested billions of dollars in businesses ranging from Germany's Volkswagen to French energy giant Total and Britain's Sainsbury's supermarket chain and Barclays Bank.
The Gulf state also developed a powerful media empire through Al-Jazeera, the first pan-Arab satellite channel which also broadcasts in English, and is preparing the launch of Al-Jazeera America.
And Qatar put itself on the world sporting map with a successful bid to host the 2022 FIFA World Cup.
Under Sheikh Hamad's rule, the emirate remained a staunch Western ally, hosting two US military bases at As-Sayliyah and Al-Udeid.
But Hamad also managed a difficult balancing act by also maintaining good relations with Islamist groups, including the Muslim Brotherhood, which was a major beneficiary of the Arab Spring revolts.
"His strategic instincts ensured he was not caught unawares by the Arab Spring, and he supported the uprisings in Libya, Tunisia, Egypt and Syria," said Da Lage.
Even though it is one of the few Arab states to have established ties with Israel, Qatar has also provided a base for exiled Hamas leader Khaled Meshaal, and is home to a newly opened office of Afghanistan's Taliban militia.
During his reign, Sheikh Hamad relied heavily on two people -- his second wife Sheikha Moza, mother of Sheikh Tamim, and his outspoken Prime Minister Sheikh Hamad bin Jassem al-Thani.
Hamad's determination was honed by a military background. He graduated from Britain's elite Sandhurst Royal Military Academy in 1971 and was named defence minister as well as crown prince in 1977.
But he is also credited with extensive diplomatic skills and a sense of humour that helped him strike up personal friendships with world leaders.