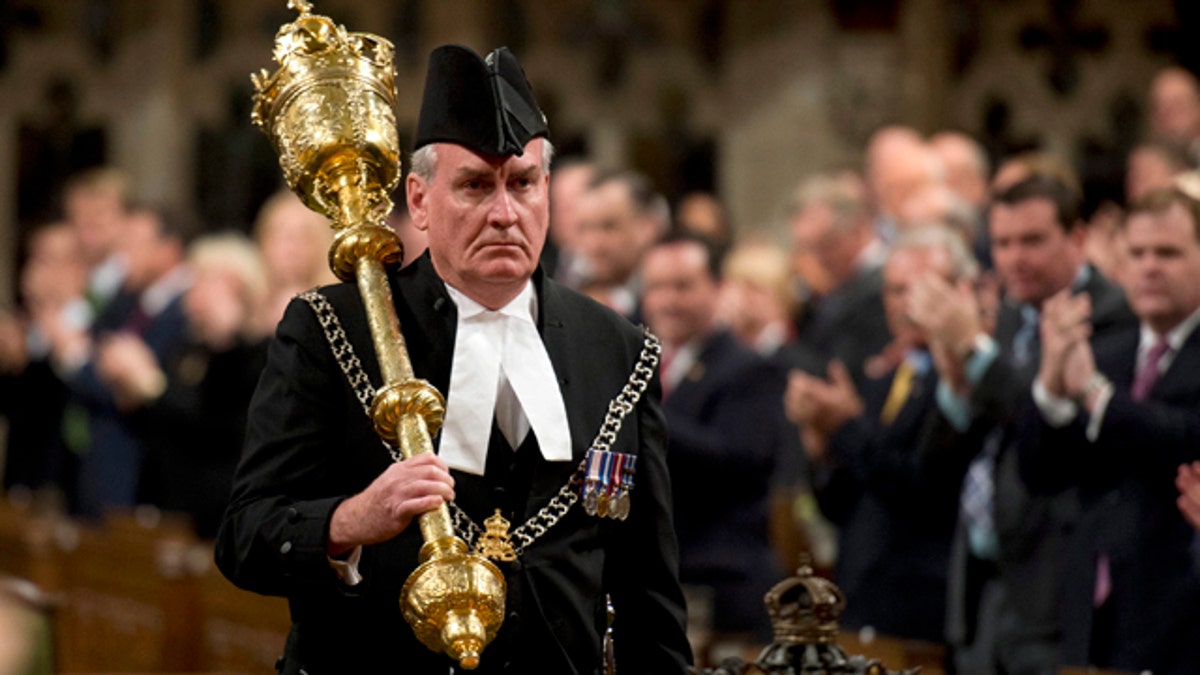 The man who shot dead a gunman who attacked Canada's Parliament this past October has been named the country's ambassador to Ireland.
The selection of 58-year-old Kevin Vickers, the House of Commons sergeant-at-arms, was announced by Canadian Prime Minister Stephen Harper Thursday.
Vickers, an Irish-Canadian, has been feted by world leaders ever since the Oct. 22 attack in Ottawa. The white-haired former Mountie likely saved countless lives by shooting Michael Zehaf-Bibeau, who had just killed a soldier posted at the nearby National War Memorial and then charged into parliament with a handgun and opened fire.
Vickers shot Zehaf-Bibeau, a petty criminal and convert to Islam, as he moved from behind a pillar to get a better shot at the sergeant-at-arms.
The day after the attack, Vickers received a standing ovation as he entered the Parliament chamber in his black robe, For more than two minutes, the lawmakers applauded and pounded their desks. At first expressionless and motionless, Vickers eventually responded to the ovation with a few slight nods of his head, his lips quivering with emotion.
"Kevin Vickers has shown profound leadership and a dedication to the security of Canada and its national institutions," Harper said in a statement Thursday. "His extensive experience working with Parliament, as well as his bravery and integrity, will serve to deepen close bilateral relations between Canada and Ireland in the years ahead."
"As a Canadian with family on both sides hailing from Ireland, there could be no greater honor," Vickers said in a statement.
Vickers had a lengthy career in policing before joining the House of Commons security staff in 2005 and becoming sergeant-at-arms in 2006. His current job — a mix of the ceremonial and the practical — encompasses the maintenance of safety and security in the Parliament complex.
He was born in New Brunswick and spent much of his police career there. His son, Andrew, has carried on the family tradition as a police officer in the city of Miramichi. Andrew was once lauded in the federal Parliament for diving into the frigid, fast-flowing Miramichi River to rescue a drowning woman who was trying to kill herself.
The Associated Press contributed to this report.