Search Intensifies for 10 Missing Oil Workers as Tropical Storm Nate Aims at Mexico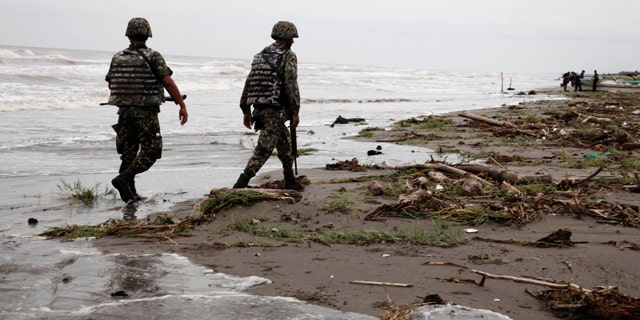 VILLAHERMOSA, Mexico – Air and sea search teams intensified their hunt for 10 missing oil workers as Tropical Storm Nate churned westward toward an expected landfall, threatening new areas of Mexico's gulf coast.
Forecasters at the U.S. National Hurricane Center in Miami said Nate hadn't strengthened as expected in the early hours Sunday and chances were declining that the storm would become a hurricane before it was forecast to rumble ashore during the day.
At 2 a.m. EDT Sunday, Nate was centered about 70 miles northeast of Veracruz, with maximum sustained winds of 65 mph. It was heading westward at 6 mph, the Miami-based forecasters said.
A hurricane warning was posted along the coast from Tuxpan to Veracruz and a hurricane watch from south of Veracruz to Punta El Lagarto. The service said the government should act to protect life and property.
Helicopters from the Mexican navy and the state oil company, Petroleos Mexicanos, left ports along the coast of Tabasco state to scour the sea while other crews searched the beaches closest to where the 10 oil workers abandoned their disabled liftboat for an enclosed life raft in the storm Thursday.
"The hope is that we find them alive at sea," said one navy rescuer searching the beach at Frontera on the Tabasco coast. He didn't give his name because he wasn't authorized to speak to the media.
By Saturday afternoon, authorities said they still had found no sign of the workers, who were employees of Houston-based Geokinetics Inc. and who called for help Thursday afternoon after leaving a vessel known as Trinity II around midday. The missing include four U.S. workers, four Mexican workers, one worker from Kazakhstan and a 10th of unconfirmed nationality.
A liftboat can lower legs to the sea floor and then elevate itself above the water level. This one was being used as a recording vessel and housing for the crew, and it was in waters about 25 feet (8 meters) deep.
Randy Reed, president of the vessel's owner, Trinity Liftboat Services LLC in New Iberia, Louisiana, was not available for comment Saturday, according to a woman who answered the phone there. The Mexican navy said Friday night that sailors had reached the 94-foot, 185-ton Trinity II but found no crew.
Geokinetics spokeswoman Brenda Taquino said the life raft was a sealed capsule containing enough food and water to last several days, but there was no way to communicate with it.
Pemex said it had evacuated 473 workers from platforms off the coasts of the gulf coast states of Veracruz and Tamaulipas. Mexico's gulf ports were closed to navigation.
Meanwhile, fishermen associations of Campeche reported that two shrimp boats have been missing since Friday along with at least a dozen people. They were in the gulf heading to the state of Tamaulipas when they were surprised by Nate.
Elsewhere, Tropical Storm Maria was about 210 miles east-southeast of San Juan, Puerto Rico, with winds reaching 50 mph at last report at 11 p.m. EDT Saturday, the U.S. National Hurricane Center said. Forecasters said a hurricane hunter aircraft found Maria was becoming better organized with its strongest winds to the north of the Leeward and the Virgin Islands.
In the far north Atlantic, former Hurricane Katia had been downgraded as what remained of the storm moved over open waters. The hurricane center said Katia was still expected to bring blustery winds to the British Isles on Monday.