Sea Shepherd loses Australia bid for charity status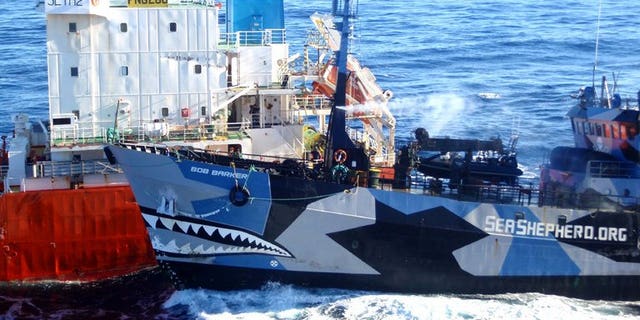 SYDNEY (AFP) – Militant anti-whaling organisation Sea Shepherd Australia suffered a blow to its fundraising hopes when a court rejected a bid for donations to be tax-deductible.
The Federal Court of Australia turned down an appeal from Sea Shepherd for charity status under tax laws, ruling the object of its campaigns were the Japanese whalers, not the care of animals.
Sea Shepherd, which annually tags the Japanese harpoon fleet to hamper the killing of whales, was challenging earlier rulings that it was not entitled to the tax concession normally granted to charitable organisations.
But the Federal Court dismissed the case and ordered the non-profit group to pay costs, rulings its activities did not constitute the provision of "short-term direct care to animals" as required under tax law.
"Taking steps to interrupt or prevent others harming animals in the wild, as Sea Shepherd does, is not the provision of 'short-term direct care to animals'," the court said in its judgment.
"What Sea Shepherd attempts to do is to prevent the killing of whales. The object of its campaigns is the Japanese whaling fleet. It does not provide care to any animal."
The decision comes as Australia and Japan are before the International Court of Justice in The Hague to resolve their dispute over whaling.
Australia wants the slaughter to end while Japan says it is done under a scientific research programme.
It also follows Sea Shepherd urging supporters to dig deep for its 10th harassment campaign beginning later this year, saying US legal action is hurting fundraising.
Sea Shepherd director Bob Brown said in May the group needed US$4 million to run its annual Southern Ocean pursuit of the Japanese, and lawsuits filed in the United States were slowing donations.
"An operation that in past years was funded by the US with its big philanthropic organisations has to be funded from outside the US now," Brown said.
"That responsibility is on us. We depend upon the largesse of a global public that supports what we're doing."
Sea Shepherd was forced to shift the headquarters of its whaling campaign to Australia from the US earlier this year due to a raft of legal issues centred on fugitive founder Paul Watson and complaints from Japan.
Canadian Watson is wanted by Interpol after skipping bail last July in Germany, where he was arrested on Costa Rican charges relating to a high-seas confrontation over shark finning in 2002.
Brutal confrontations with the conservationists saw Japan's ships return home with a record low catch earlier this year of just 103 minke whales -- less than half the previous year's tally -- and no fin whales.