Scholar from China's minority Muslims denies that writings, classroom lectures were separatist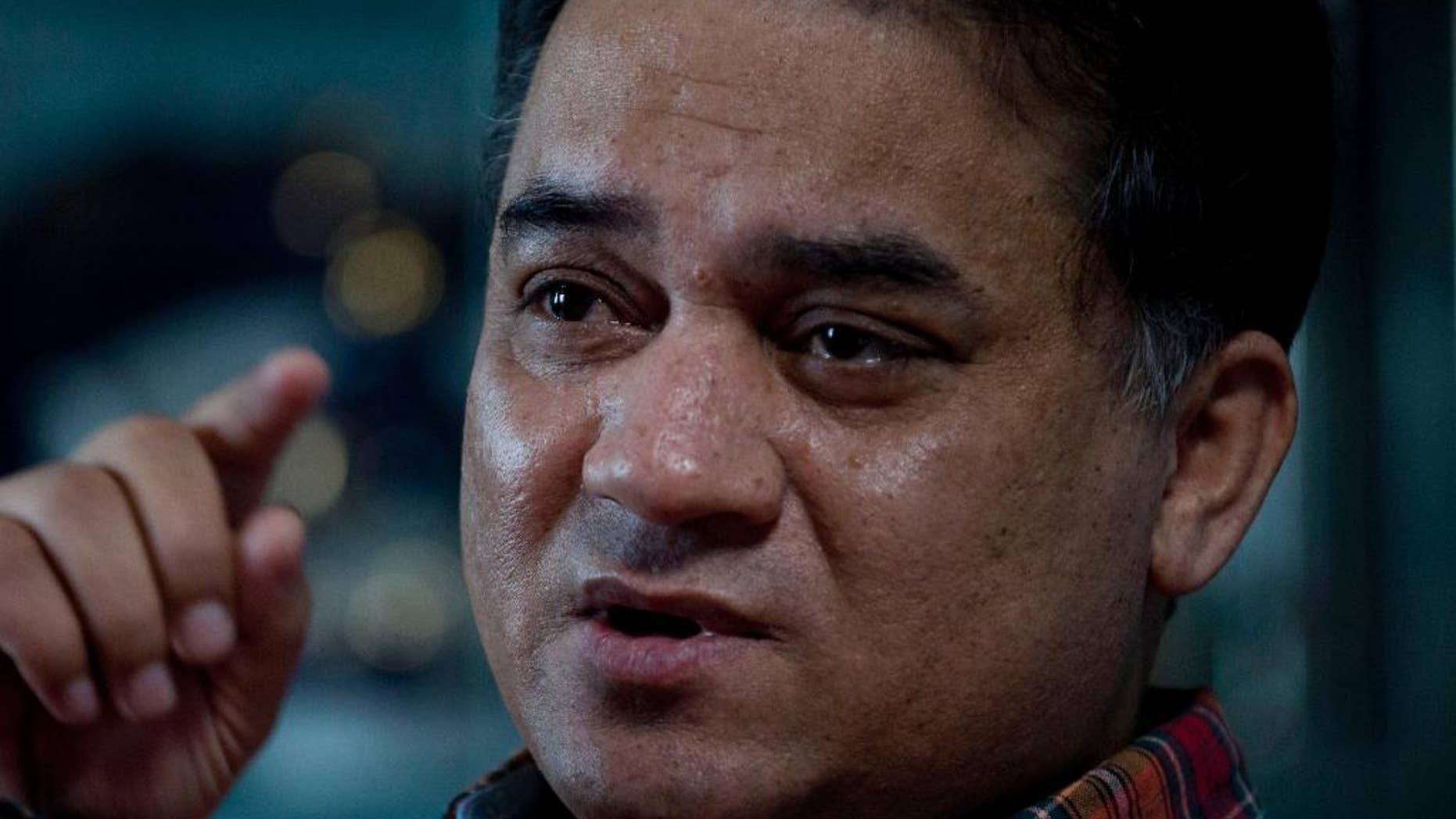 URUMQI, China – A Muslim Uighur scholar accused of separatism sought to show Thursday that his writings and classroom lectures, including rhetoric saying Chinese are dragons and Uighurs are wolves, were not a campaign to split his native Xinjiang region from China.
Frequent government critic and former Beijing economics professor Ilham Tohti is accused of fomenting ethnic hatred and unrest to overthrow Chinese rule in Xinjiang, which has seen an uptick of violent over the past 18 months that authorities blame on terrorist cells seeking a separate state.
His supporters say he is a moderate who has sought a middle road in resolving the region's ethnic tensions, and that the case against him reflects Communist Party-ruled China's unwillingness to allow criticism and free speech. He was expected to testify Thursday in the trial, which has been closed to foreign reporters.
Lawyer Li Fangping said prosecutors on Wednesday cited Ilham Tohti's online articles about Uighur rights, education and Christianity. They also cited his classroom pronouncements to the typically ethnic minority students who took his classes at Beijing's Minzu University, including his strong emphasis on proclaiming Uighurs to be distinct from China's Han majority, Li said.
"The next step will be to explain that this material does not amount to separatism," Li said ahead of Thursday's second day of proceedings in what was expected to be a two-day trial in Urumqi People's Intermediate Court in the Xinjiang regional capital.
A verdict was not expected until later. Separatism carries punishments up to death, but Li said he expected Ilham Tohti to face from 10 years to life in prison.
During a 2010 classroom session attended by an Associated Press reporter, Ilham Tohti shouted "We are not descendants of the dragon, but of the wolf," drawing a clear line between the creation myths of the Han Chinese and the Uighur minority. "We were not created by the Chinese Communist Party. Our history stretches back much longer than 60 years."
Li said prosecutors specifically cited the dragon-and-wolf quotes by the scholar.
Chinese authorities also detained seven of Ilham Tohti's students in January when they apprehended him, said the parents of one student who were waiting outside the courthouse Wednesday. The parents said they had not heard any news of their son since his arrest. Police stopped the interview, and The AP is withholding the parents' names because of threats to their safety.
Police formed a several-block perimeter around the venue with tape, keeping away journalists, bystanders and Western diplomats from eight nations and the European Union who traveled to Urumqi in an attempt to witness the trial. Some of his relatives, including his wife Guzulnur, were allowed to attend the proceedings.
"He's never done anything illegal," Guzulnur said during a break Wednesday. "He's never talked about separating the country. He's never opposed the government. He's never opposed the people. He's a scholar."
Ilham Tohti has long been a critic of what he calls the systematic exclusion of Uighurs from the economic benefits brought to Xinjiang by migrants from China's Han majority, and has sought to prevent the Turkic Uighur language and culture from being marginalized.
But he was also known as a more mainstream Uighur voice, a Communist Party member and teacher at a top Chinese university who used his website, Uighur Online, as a forum for issues affecting his ethnic group.
Late Wednesday night, several people in Urumqi's main Uighur district said they knew of Ilham Tothi although they didn't know he was being tried just a few miles away. They said they had read about him online, evading Chinese censors who tightly control Web information about him.
The Uighurs said many people were being detained in the city after recent ethnic violence, including an attack in May attributed to Uighur separatists who drove two large sport utility vehicles and hurled explosives through an Urumqi market street, killing 43.
One Uighur man, who also asked not to be identified out of concerns for his safety, said many people were being detained without knowing the reason.
In many ways, the Uighurs here live in a separate world from the Han Chinese who outnumber them in the regional capital. Many speak only the Uighur language and stay in their own part of town. Some people even keep their watches set two hours before the official time, which matches Beijing's some 2,000 miles to the east but means the sun only rises around 8 a.m. this month.
Ilham Tohti was arrested in Beijing earlier this year amid the recent violence, and authorities have blamed him for fomenting some of the unrest. More than 300 people have been killed over the past year and a half, nearly half of them shot by police in a strike-hard campaign launched by the government to fight what it calls terrorist cells.
Also Thursday, a court in the southern province of Yunnan convicted four people — with Uighur-sounding names — for participating in terrorist organizations, illegally making explosives and offering funds or harboring suspects. They received sentences of 10 to 20 years in prison, the court said.
State media said the four were influenced by religious extremism and had made explosives in Beijing and Yunnan in an attempt to launch a "jihad."
___
Journalists Ian Mader and Louise Watt in Beijing and Helene Franchineau in Urumqi contributed.