Scenes of panic, injured people, after flash mob is mistaken for terrorist attack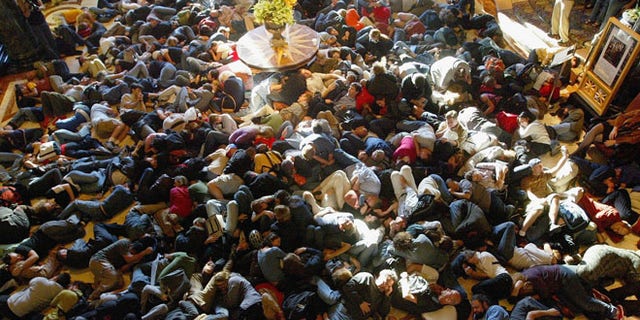 A flash mob event in a popular summer spot in northern Spain sent dozens of people running in frantic panic, fearing it was a terrorist attack.
Dramatic footage shows hundreds of tourists running for cover, knocking over one another in an apparent stampede.
In a flash mob, people gather to perform an action, normally to surprise bystanders.
At least 11 people were injured and one man suffered a heart attack during the incident.
Spain is on a level 4 for threat of a terrorist attack, just one below the top level reserved for imminent attacks.
Spanish police arrested five German women for organizing the mob, in which approximately 200 people took part. They were charged with disturbing the peace and face jail sentences of up to a year.
According to El Pais newspaper, some local business owners sustained significant financial losses and are considering filing complaints to seek damages.
The flash mob began shortly before 10 pm on Tuesday, in the Catalan resort town of Platja d'Aro.
The flash mob theme was to pretend a fan chase of a celebrity.
The group had armed themselves with selfie-sticks and tripods, as they pretended to pursue a celebrity through the Costa Brava resort town. The event was organized via social media. Locals and tourists mistook the selfie-sticks for guns.
Police later issued social media messages explaining the incident and clarifying there had been no shooting.
Based on reporting by the Associated Press.
Like us on Facebook
Follow us on Twitter & Instagram