Scandal-plagued Toronto mayor rode wave of conservative discontent to victory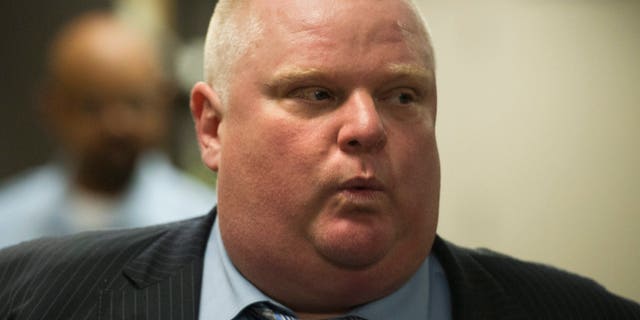 TORONTO – Mayor Rob Ford stomped to victory in Toronto's elections three years ago on a wave of discontent simmering in the outlying neighborhoods of Canada's quiet, efficient financial capital.
Now, stories of excessive bad behavior by Ford, a burly populist who refers to his conservative supporters as "Ford Nation," have transfixed North Americans following published accounts of a video that apparently shows him puffing from a glass crack pipe.
The groundwork for Ford's election was laid back when Toronto quadrupled in size by merging with five suburbs in 1998. Twelve years later, the fiery former city councilor rode a conservative backlash to City Hall, after initiatives like downtown bike lanes were seen by suburbanites as wasteful, elitist intrusions.
The result is that North America's fourth-largest city is governed by a man who has shown evidence of troubled behavior long before he ran for mayor.
The controversies range from the trivial to the serious: Walking face-first into a television camera. Falling over in the middle of a photo-op — for no apparent reason. Being asked, according to the Toronto Star, to leave an event for wounded war vets because he appeared intoxicated. Being forced, after repeated denials, to admit he was busted for marijuana possession in Florida in 1999. Various altercations with a city transit worker and a reporter. Rude gestures at Torontonians from his car.
Ford was fired last week from his cherished side-job as a volunteer high school football coach. A school board spokesman, John Yan, told The Associated Press the dismissal was not because of the crack allegations, but because of disparaging remarks Ford made to a TV network about parents and their kids at the school.
Ford, 44, now faces his greatest test. The Toronto Star has reported that two reporters watched a video that appears to show the 300-pound (135-kilogram) mayor, sitting in a chair, inhaling from what appears to be a crack pipe. The Star said it did not obtain the video or pay to watch it.
The video has not been released publicly. Reports on gossip website Gawker and in the Toronto Star said it was taken by men who said they had sold drugs to Ford. The AP hasn't seen the video.
Gawker and the Star said the video was shown to them by a drug dealer who had been trying to sell it for a six-figure sum. The Star also reported that Ford made an anti-gay slur against a federal political leader and made a racist remark about the students he coached.
Ford has said there is no video and has called the allegations ridiculous, but he has refused to take questions from the media and still has not said whether he has ever used crack.
Both opponents and allies of Ford have questioned whether the mayor has told the truth. Some have called on him to step down, but Ford has refused to resign and vowed to seek re-election next year.
Nelson Wiseman, a political science professor at the University of Toronto, said Ford's refusal to address questions implies guilt.
"He's giving Marion Barry a run for his money," Wiseman said, referring to the 1990 arrest of then-Washington Mayor Marion Barry, who was videotaped smoking crack cocaine in a hotel room during an FBI sting operation. Barry served six months in federal prison on a misdemeanor drug possession conviction. He then won a fourth term as mayor in 1994.
In Toronto, city councilors say the mayor's office is imploding. Ford fired his chief of staff last week, while the mayor's press secretary and deputy have quit. Two other staff members left Thursday, bringing the total to five departures in a week.
The mayor's older brother Doug Ford, an influential city council member, also faces drug allegations after another leading Canadian newspaper published the results of what it called a lengthy investigation into the Ford family's past. The Globe and Mail revealed "a portrait of a family once deeply immersed in the illegal drug scene." The Fords deny the allegations.
Pollster Nik Nanos said polling showed voters knew about past Ford controversies, but that they weren't a factor in Rob Ford's election in 2010. Nanos noted Ford was the only right-wing candidate from the suburbs and said two other candidates split the downtown liberal vote, helping him win. Ford was known for his obsession with customer service and efficient use of taxpayer money, and many conservative voters wanted to punish City Hall for gridlock and waste, Nanos said.
Grant Allardyce, 42, a resident of Ford's Toronto suburb, said his track record of not spending money on frivolous things appealed to him. "He just seemed to come across as more of a people's mayor," Allardyce said.
Ford and his family host hundreds of fans and supporters at an annual summer barbecue at the family's home. Guests have included Conservative Prime Minister Stephen Harper.
Doug Ford, 48, an influential adviser to the mayor, is battling his own scandal.
The Globe and Mail, citing anonymous sources who were involved in the drug trade, alleged that the mayor's older brother Doug sold hashish for several years in the 1980s in the Toronto suburb of Etobicoke, where the family grew up.
Doug Ford denied the allegations and said that journalists were "lower than a bunch of f---- politicians."
Rob Ford had a different term for the media that has unearthed one scandal after another.
"A bunch of maggots," he said.
Wiseman, the University of Toronto professor, said suburban homeowners relate to Ford's blunt style and penchant for penny-pinching.
"He was this weird guy who didn't even pay for his own staples," Wiseman said. "He would submit an expense claim for next to nothing. He was a real maverick. He just seemed unlike anybody else on council.
"He seemed like a bit of a buffoon, but for a lot of people that was very appealing because he was anti-elite."