Saudi King Salman's lavish trip to Russia included gold-plated escalators, luxury carpets
Saudi Arabia's King Salman arrived in Moscow on Wednesday for an opulent historic visit that included an entourage of 1,500 people, a golden-plated escalator and his own luxury carpets.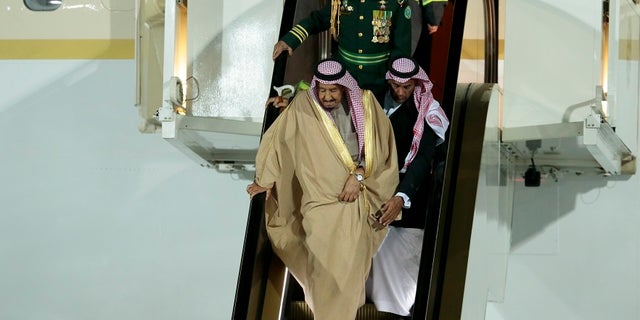 The Saudi leader, who was in Moscow for a four-day trip, which included a meeting with Russian President Vladimir Putin, made quite the entrance upon arrival.
Bloomberg reported Salman stepped out of plane and used a golden-plated escalator that he normally travels with. Unfortunately, the escalator stopped as the 81-year-old monarch was riding it, forcing him to walk the last few steps.
RUSSIAN ENVOY VISITS SAUDI ARABIA FOR SYRIA, GULF TALKS
The visit was the first for the two countries after decades of rivalry. On Friday, Russia and Saudi Arabia struck a slew of deals, including contracts for Russian weapons.
Hosting the Saudi king in the ornate Kremlin interiors, Putin hailed his visit as a "landmark event" that will give a "strong impulse" to bilateral ties.
Salman said he was looking to expand relations with the "friendly nation" of Russia "in the interests of peace, security and development of the world economy."
SAUDI ARABIA DETAINS 22 FOR 'INCITEMENT' AMID CLAMPDOWN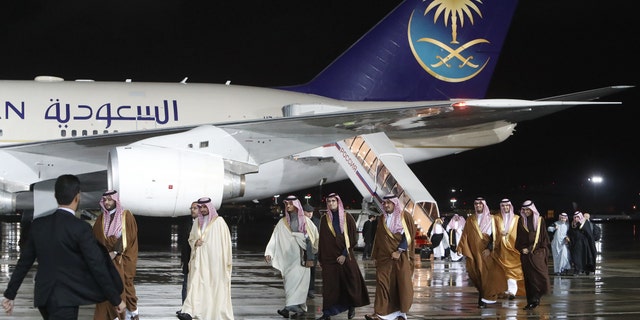 The Saudi king brought all of comforts of home with him to Russia, too. Blomberg reported he had 1,764 pounds of food transported from Saudi Arabia to Moscow. Salman, who stayed at the Four Seasons, reportedly brought his own carpets, furniture and staff to make his coffee.
The Four Seasons and another hotel in Moscow, the Ritz Carlton, were fully booked by the Saudi government. Some people who reside at the hotel left to make room for the Saudi entourage.
The Associated Press contributed to this report.