Saudi ex-intel chief says Assad is the biggest terrorist, praises Trump's harsh Iran stance
Former Saudi Chief of Intelligence and Ambassador to the U.S. and U.K. Prince Turki al-Faisal is cautioning the Trump team to clarify its stance on defeating "the biggest terrorist in Syria" — the country's president, Bashar al-Assad — while at the same time praising the clear, ironfisted strategy of the U.S. toward Iran.
"Bashar al-Assad is the biggest terrorist. He has killed more people than Hamas, ISIS or al-Nusra," Faisal said Sunday at the Middle East Policy Forum in New York, coordinated by the Israel Policy Forum, a think tank aimed at supporting and mobilizing the American Jewish community. "Therefore, the effort needs to be to convince Russia not to necessarily abandon, but to keep an arm's distance from Mr. Assad. If that happens, we can get things happening in Syria."
Russia, a prominent opponent of regime change globally, long has supported the Syrian president and is largely credited for turning around the country's bloody civil war after it joined the bombing campaign to support pro-Assad forces in September 2015.
For his part, Assad consistently has acknowledged the brutal toll of the more than six-year war, which has claimed the lives of hundreds of thousands and displaced millions, yet has insisted that their fight has not been against an "opposition," but against terrorists littered across the country.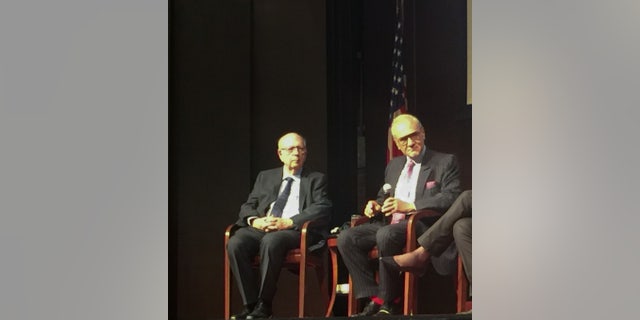 The "cure" to the global terrorism problem, Faisal stated, is to "fix the capitals" in countries across the Middle East and North Africa.
"If you look across from Iraq to Syria to Lebanon to Yemen to across the sea to Libya, you see terrorist groups are thriving in these countries," he said. "The best way to cure this is through viable and workable governments who can deal with these challenges. You have to fix the capitals."
He stressed that terrorist groups are merely "symptoms and political tools" for failing governments.
Faisal also pointed out that while the American policy in Syria and toward Assad remains murky, he praised President Donald Trump's clear and harsh stance toward Iran and recent refusal to certify their compliance to the Joint Comprehensive Plan of Action, better known as the Iran nuclear deal.
DEFEATING ISIS ISN'T ENOUGH: TRUMP URGENTLY NEEDS A NEW SYRIA POLICY
"If you want to put pressure on Iran, you have to do whatever it means to do that and decertification is one way of putting in that pressure to make them live up not just to the letter of the deal, but the spirit," he said. "The signers of the deal when they signed it portrayed the holy picture that it was going to turn into a very friendly and open and hospitable place to do business with, but that hasn't happened."
Rather, Faisal observed, the deal has "emboldened" Iran to cement its footprint further in Iraq, Syria, Lebanon and the region at-large.
"The basic failure of the deal was to deal with (these) Iranian extraterritorial ambitions," he said.
RUSSIA'S LAVROV WARNS ONE-SIDED CHANGES COULD SINK IRAN DEAL
Faisal was joined by Efraim Halevy, former director of Israel's Mossad Security Agency, who instead reiterated the importance of ensuring the deal remains in place and countered that from an Israel point of view, they at least have time now — 10 to 13 years — to deal with issues that were not included, such as terrorism and missile capabilities.
"Israel is indestructible. We are able to, if necessary, protect ourselves and emerge intact. I have huge faith in our military establishment, our defense establishment, and our intelligence establishment. We are less indestructible than we ever were," he said. "Having said that, the Iran deal was not an ideal deal. But this was because Israel did not wish the negotiations to include all the items on the agenda."
Rather, Halevy advocated that they wanted the United States to "focus on the nuclear issue and nothing else."
"We didn't want to delay the deal, we wanted it to come as quickly as possible and be as effective as possible," he added. "Things are happening in Iran today, changes are happening in Iran today."
The forum marked the first time Faisal had visited a synagogue in America, and he emphasized he hoped "it would not be the last."