Sadrists expect big role in new Iraq government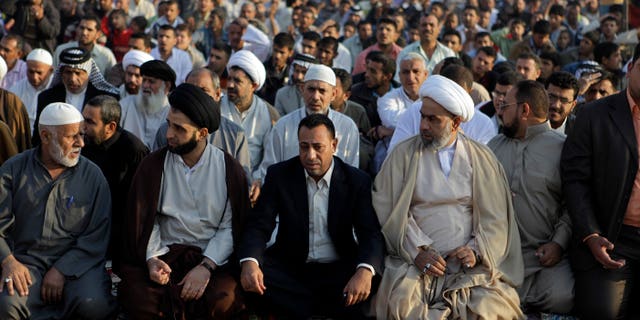 BAGHDAD – The Shiite Sadrist movement was the key bloc that assured Prime Minister Nouri al-Maliki's re-election, and now the fiercely anti-U.S. fundamentalist group wants its cut in return: A bigger role in Iraq's new government. Already, it has gotten bolder on the ground.
One recent day, an intimidating group of Sadrists entered a lingerie store in the movement's Baghdad stronghold of Sadr City and brusquely told its owner to take bras and underwear out of his display window.
"I am not doing anything wrong," the owner lamented to an Associated Press reporter after the men left. Still, the owner, who refused to be identified for fear of being targeted, moved the offending items to the back of the shop. Nearby a cafe owner, similarly afraid to be identified, said Sadrists told him to keep teenagers out of his establishment or be shut down for corrupting youth.
Such intimidation by followers of the radical cleric Muqtada al-Sadr imposing their version of Islamic restrictions had waned last year in areas they traditionally controlled, after Iraqi security forces cracked down on the movement's Mahdi Army militia. But now they are increasingly back, emboldened by the movement's success in March 7 elections.
After winning 40 seats in the election, the Sadrists swung their support behind al-Maliki in a surprise move in September that was crucial in propelling him to a second term.
Now the question of how much political power they will receive in return is unnerving Iraqis and Americans alike.
The Sadrists' Mahdi Army militia repeatedly battled with American forces since 2003 and was involved in brutal sectarian violence against Sunnis. In recent years, it has also grown closer to Iran, where the movement's leader al-Sadr is studying — meaning its presence gives Tehran yet another avenue of influence in Baghdad.
The Sadrist movement is pressing for a bigger presence in the police and military apparatus and could pick up key service ministries like Health, Education or Electricity, which would give them significant patronage powers for their supporters and wide influence over all Iraqis' lives.
American officials say they would reconsider aiding Iraqi forces that are under control of the Sadrists, whose militia repeatedly battled with American forces since 2003 and was involved in brutal sectarian violence. Sadrists consider American forces occupiers, so their presence in the government could also make it impossible for Iraq and the U.S. to negotiate an agreement allowing U.S. troops to stay longer.
In Cabinet negotiations, the Sadrists have been told they would not receive the crucial posts of defense minister or interior minister, who heads the police forces, said an Iraqi lawmaker who spoke on condition of anonymity because of the sensitivity of the government formation talks.
But senior Sadrist lawmaker Hakim al-Zamili said there is no red line against the Sadrists taking any ministries. He told the AP that his bloc was pushing for a post of deputy prime minister in charge of security affairs.
"The security file is very complicated and needs cleansing and special care," he said. The Sadrists have spoken of the need to shake up the security forces, raising fears they would want to push out some Sunni officers and install their own loyalists.
Al-Zamili was deputy health minister when the ministry was held by the Sadrists in a previous government. He was one of two former government officials accused of allowing Shiite death squads to use ambulances and government hospitals to carry out kidnappings and killings. The charges against the two were dropped, and al-Zamili denies any wrongdoing.
Iraqi political analyst Hadi Jalo said the Sadrists will try to push officers loyal to them into the medium ranks of security bodies where they could flout the rule of law with little or no oversight. But they realize the difficulty in getting top-ranking security positions since al-Maliki needs to maintain an agreeable relationship with the Americans, whose forces continue to help and train Iraqi troops.
The Sadrists are already reaping some benefits from their political status — including, it seems, the release of jailed members, one of their demands.
The number of Sadrists held in Iraqi prisons has fallen to 1,500, down from 3,000 five months ago, according to an Interior Ministry official. The official reason for the releases was lack of evidence, but the official said he believed the timing is part of al-Maliki's appeasement to the Sadrists. The official spoke on condition of anonymity because he was not authorized to talk to the media.
Sadrist spokesman Ameer Taher al-Kinani denied any deal, saying the prisoners had been held by the U.S. military without arrest warrants and were freed once handed over to Iraqi authorities.
The partnership between Sadrists and al-Maliki is surprising since the two had been enemies since 2008 when the prime minister launched an offensive crushing the Mahdi Army in Baghdad's Sadr City district and the southern city of Basra. It took a deal brokered by Iran to bring the two sides to detente.
Now, the Sadrists seem to be feeling freer to re-impose their will in their strongholds.
In Basra, students say women at the University of Basra have been banned from wearing makeup, and mobile phone ringtones that aren't religious are frowned upon. Students trying to join the university's music department were threatened and eventually classes were canceled, according to professors.
As part of the deal with al-Maliki, the Sadrists may pick up two governor's positions in the provinces of Dhi Qar and Maysan in the Shiite south, according to provincial officials there who spoke on condition of anonymity because of the sensitivity of the situation.
This would give Sadrists control of two oil-producing provinces also known as smuggling routes for weapons from Iran.
A Shiite parliament member from al-Maliki's bloc criticized the apparent deal.
"What is the use of provincial elections if the situation can be changed in order to satisfy a group of people?" said Mohammed Sayehoud, from Maysan's capital Amarah.
And if the Sadrists gain ministries like health, education, transportation and electricity, they would be in position to use services to win over voters and expand their position in the next election four years from now.
Much of the Sadrists' popularity with their poor supporters comes from the fact that they live side-by-side with their constituents instead of in Baghdad's Green Zone where many Iraqi politicians live.
"You can see sewage gathering behind the houses of even Sadrist politicians because they live in our neighborhoods," said Mohammed Adan, a 21-year-old Sadr City resident standing next to a massive sewage system being built along the Sadr City border. He credited the Sadrists with bringing the new project to his neighborhood.
"All of Sadr City is looking forward to such kinds of projects" under the new government, he said.
__
Associated Press writers Mazin Yahya in Baghdad and Sameer N. Yacoub in Amman, Jordan contributed to this report.