Russia's foreign minister says both sides in Syria to blame for massacre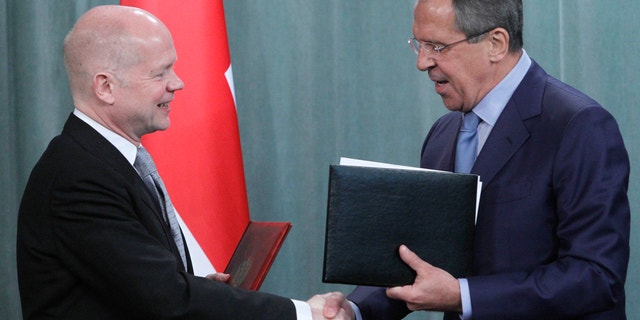 Russia's foreign minister said Monday that both sides in the Syrian conflict "had a hand" in the deaths of more than 100 civilians in the town of Houla and called for a full investigation.
The comments by Sergey Lavrov came a day after the U.N. Security Council, which includes Russia, blamed the Syrian government for attacking residential areas in the central town of Houla, but avoided saying who was responsible for the massacre of more than 100 men, women and children.
"Both sides have obviously had a hand in the deaths of innocent people, including several dozen women and children. This area is controlled by the rebels, but it is also surrounded by the governmental troops," Lavrov said after talks with visiting British Foreign Secretary William Hague.
Lavrov said there was no doubt that government forces had used artillery and tanks to shell Houla, or that many of the bodies were found with wounds indicating they had been hit at close range or tortured.
"The guilt has to be determined objectively," Lavrov said. "No one is saying that the government is not guilty, and no one is saying that the armed militants are not guilty."
Lavrov and Hague both called for greater efforts to implement a peace plan put forward by special envoy Kofi Annan, which calls on both sides respect a cease-fire.
"It's right, as Sergey Lavrov has just done, to call on all parties to cease violence, and we are not arguing that all violence in Syria is the responsibility of the Assad regime, although it has the primary responsibility for such violence," Hague said.
Lavrov added that "we don't support the Syrian government, we support Kofi Annan's plan."
He called for all in the international community to work together, saying it was not clear from talks with opposition members that they were getting the message that the Annan plan was supported by all.