Russian military planes make pair of provocative appearances during NATO war games
A Russian jet's "unsafe" intercept of a U.S. aircraft and a Kremlin spy plane's conspicuous presence during the largest post-Cold War NATO military exercise highlighted the continuing tensions between many alliance nations and Vladimir Putin's government.
NATO's Trident Juncture war games were launched last month in central and eastern Norway, the North Atlantic and the Baltic Sea, and are set to continue until Nov. 7.
"This is not a Cold War situation," NATO Secretary General Jens Stoltenberg said last week, adding the exercises were "purely to prevent, not to provoke."
But Russia views the exercises through a different lens, and the country sent military planes to two Trident Juncture locations in the past few days.
U.S. Navy Forces in Europe and Africa tweeted harrowing video Monday of a U.S. EP-3 Aries aircraft being intercepted by a Russian SU-27 at high speeds. The EP-3 was in international airspace over the Black Sea at the time.
"This interaction was determined to be unsafe due to the SU-27 conducting a high speed pass directly in front of the mission aircraft, which put our pilots and crew at risk," U.S. officials said in a statement. "The intercepting SU-27 made an additional pass, closing with the EP-3 and applying its afterburner while conducting a banking turn away."
Meanwhile, a Tupolov TU-142 Russian spy plane made an unexpected appearance over NATO operations off the Norwegian coast Saturday. The Soviet-era plane was seen flying over the USS Mount Whitey while U.S. Marines watched.
Russia said prior to the start of the war games that it might test missiles in the area as well, though so far Putin has not followed through on the threat. Moscow had been angered by the notion of the war games being conducted and accuses the West of acting provocatively around its borders.
There are 65 ships, 250 aircraft, 10,000 vehicles and 50,000 personnel taking part in the exercises. The war games' storyline revolves around NATO restoring Norway's sovereignty after an attack by a "fictitious aggressor."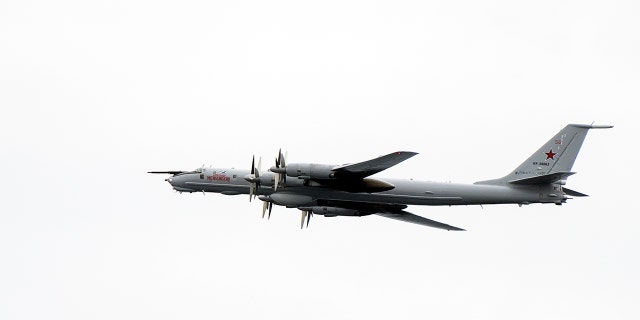 Saturday's Russia flyover elicited shouts from the Marines aboard the USS Mount Whitey, according to Military.com.
"We are at sea, everyone's got the right to be here. It's international waters, it's international airspace," British Adm. Guy Robinson told Military.com. "So clearly, we monitor closely. But everything we see in this exercise is that they've been safe and professional."
The Associated Press contributed to this report.