Russia withdraws request to refuel Syria-bound warships in Spanish port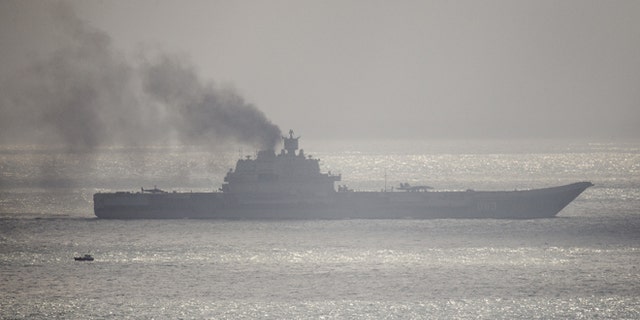 NEWYou can now listen to Fox News articles!
Russia withdrew its request to Spain on Wednesday to refuel a fleet of warships bound for the Eastern Mediterranean, amid worries from Western nations that the ships could be used to launch air attacks in war-torn Syria.
Vasily Nioradze, spokesman at the Russian embassy in Madrid, told the Associated Press on Wednesday that the request has been canceled, but he gave no details.
The aircraft carrier Admiral Kuznetsov and a group of support vessels bound from Russian's northern naval bases have steamed through the North Sea and English Channel in recent days en route to the Mediterranean Sea.
Some of the ships were expected to take on supplies and refuel in Spain's North African enclave of Ceuta. It remains unclear how many ships would have resupplied.
At talks between NATO defense ministers in Brussels, U.K. Defense Secretary Michael Fallon said Great Britain "would be extremely concerned if a NATO member should consider assisting a Russian carrier group that might end up bombing Syria."
NATO Secretary-General Jens Stoltenberg said the deployment raised concerns that air assaults could increase in Syria, notably in the besieged city of Aleppo.
Blaming Russia for exacerbating a humanitarian disaster, Stoltenberg said, "Men, women and children are dying every day, killed by disgraceful attacks on their homes and even their hospitals."
He noted that all 28 allies are aware of NATO's concern that the Russian ships could be used as a platform to bomb Aleppo in support of Syrian President Bashar al-Assad. He did not single out Spain in his comments, despite being asked repeatedly what damage the refueling might do to NATO's image.
A few hours later, the Spanish Foreign Ministry confirmed in a statement that Russia had withdrawn its request for the stopover.
The ministry said that following reports that the ships involved might take part in supporting military actions in Aleppo, it had asked the Russian embassy for an explanation. The ministry did not say if the government of President Vladimir Putin had given any explanation.
Last month, the Spanish government gave permission for three Russians vessels to stop in Ceuta between Oct. 28 and Nov. 2. This was in line with the usual practice of letting Russian warships stop at Spanish ports.
Syria's northern Aleppo province saw a new escalation in fighting Wednesday as a helicopter believed to belong to Syrian government forces dropped barrel bombs in an attack on Turkish-backed opposition forces, said officials from Turkey, a member of NATO.
The United Nations has estimated that 275,000 people are trapped by the Syrian government's siege of the rebel-held eastern parts of the contested city of Aleppo.
The flotilla is not the only Russian military deployment raising tensions.
Sweden's Defense Minister Peter Hultqvist confirmed in Brussels that two Russian corvettes with Kalibr 3M missiles were on their way through the Baltic Sea to the naval base in Kaliningrad. The vessels were making their way back from the Black Sea.
"This is, after all, worrying and nothing that contributes to lesser tension in our region. It affects all the countries around the Baltic Sea," Hultqvist told Sweden's news agency TT.
Based on reporting by the Associated Press.