Russia unveils nuclear weapons Putin claims are immune to interception
Russia has developed a new set of strategic nuclear weapons that can't be intercepted, Vladimir Putin claimed Thursday, marking a breakthrough that could dramatically increase the country's military capabilities, as U.S. officials told Fox News the missiles are still not operational.
The Russian president made the bold claim during his state-of-the-nation speech and said the new weapons include a nuclear-powered cruise missile, a nuclear-powered underwater drone, and a new hypersonic missile.
Putin claimed the new weapons have made NATO's U.S.-led missile defense system "useless," and are a signal to Western powers that efforts to hold Russia in check have failed.
"I want to tell all those who have fueled the arms race over the last 15 years, sought to win unilateral advantages over Russia, introduced unlawful sanctions aimed to contain our country's development: all what you wanted to impede with your policies have already happened," he said. "You have failed to contain Russia."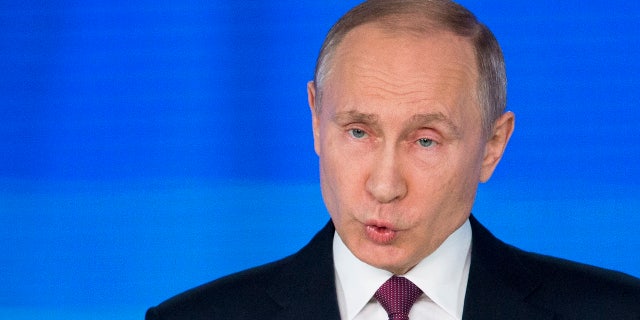 The Russian leader also warned that Moscow would regard any nuclear attack on its allies as an attack on Russia itself, and the country would respond swiftly, according to Sky News.
"We would consider any use of nuclear weapons against Russia or its allies to be a nuclear attack on our country. The response would be immediate," he told Russian politicians.
PENTAGON ANNOUNCES PLAN TO EXPAND NUCLEAR ARSENAL IN FACE OF RUSSIAN THREAT
Putin claimed the nuclear-powered cruise missile tested last fall has an unlimited range, high speed and maneuverability allowing it to pierce any missile defense.
While Putin boasted of the new missile capable of hitting long-range targets, the weapon is not operational yet and still "nascent," according to two U.S. officials briefed on the latest intelligence about Moscow's military capabilities.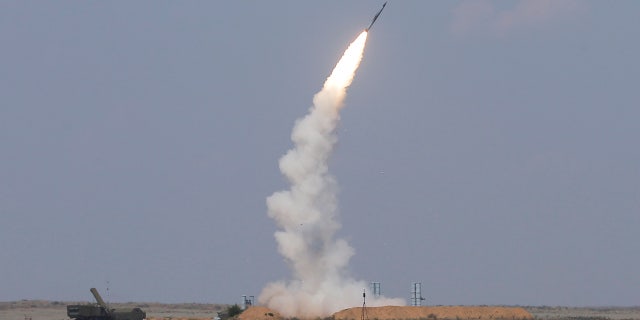 "The nuclear powered cruise missile Putin bragged about has actually crashed a few times," during recent testing in the Arctic, one official told Fox News. "Think about the environmental impact of that," the official added. Both agreed to speak only on the condition of anonymity because they were not authorized to speak with the media.
Both officials told Fox News that Russia's nuclear powered cruise missile and nuclear powered torpedo remain in the "R&D" or research and development stage, and are not currently deployed with any Russian military units.
Officials acknowledged there are "limited" U.S. defensive capabilities to defend against a Russian cruise missile attack, with only 44 anti-ballistic missile interceptors in the ground in Alaska and California that were first fielded in 2006.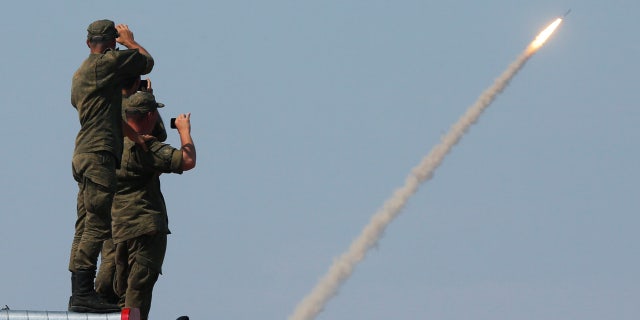 RUSSIA TESTS NEW ANTI-MISSILE SYSTEM AMID NATO TENSIONS
The Pentagon plans to put dozens more interceptors in the ground in the coming years, but they are designed to take out only a small number of missiles from rogue states, like North Korea, not match an overwhelming missile attack from Russia.
"We don't defend, we deter," one official said, echoing U.S. military policy. "Nothing's different today than it was yesterday. If they nuke us, we will nuke them back," the official added.
The U.S. military currently has over 1,400 nuclear warheads deployed in 400 ICBMs in silos across three Air Force bases out west, and hundreds more warheads deployed underwater on ballistic missile submarines and in the air on B-52 and B-2 bombers. Any attack by Russia or anyone else, "would be met with an overwhelming response," one of the officials said.
A missile defense expert told Fox News on Thursday that America's missile defense is "limited" against Putin's cruise missiles.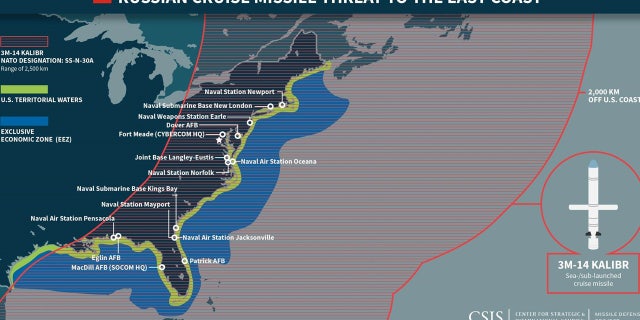 "U.S. missile defense efforts have been largely oriented to a limited ballistic missile-style threat," said Tom Karako from the Center for Strategic and International Studies. "But the threat from Russia is not just from ballistic missiles anymore. Cruise missiles and hypersonic-glide vehicles don't follow predictable ballistic paths so we have to adapt to this emerging threat."
"The Pentagon's forthcoming Missile Defense Review has been tasked with looking at just this sort of threat, namely the cruise missile threat to the homeland," Karako added.
The Pentagon's new nuclear posture review calls for the development of two new "low-yield" tactical nukes to match the Russian threat. Nuclear-tipped cruise missiles were removed from U.S. Navy warships during President George H.W. Bush's administration, and fully scrapped under President Obama, according to defense officials.
Congress had urged the Obama administration to take the cruise missile threat from Russia seriously, aides told Fox News on Thursday.
A decades-old arms treaty between Moscow and Washington only bans ground-based intermediate-range cruise missiles, but does not ban sea or air-launched cruise missiles in the U.S. military.
Besides the cruise missiles, Putin also boasted to Russian lawmakers the development of a high-speed underwater drone has an "intercontinental" range, can carry a nuclear warhead, and target both aircraft carriers and coastal facilities.
Putin also suggested that the Defense Ministry run a nationwide contest for the best names, which evokes the Soviet-era tradition of giving the innocuous names to some of the deadliest weapons systems. The Russian embassy to the U.S. later posted a link to the contest on Twitter.
The announcement of the new nuclear weapons comes as Putin is set to easily win another six-year presidential term in the March 18 election. He said the new weapons would help ensure global stability and draw a line under attempts to weaken Russia.
The new military systems also use physical principles, including laser systems, and multiply Russia's opportunities in the defense sector, according to the TASS news agency.
RUSSIA BUILDING A 'DOOMSDAY' TORPEDO, LEAKED PENTAGON REPORT DRAFT SAYS
U.S. officials told Fox News that Russia is "worried" about the Pentagon's plans to develop two new tactical nuclear weapons, and that Putin's speech was based, in part, on shoring up support at home ahead of the election. The declaration also served as a response to the Trump administration's plan to expand its nuclear arsenal officials said.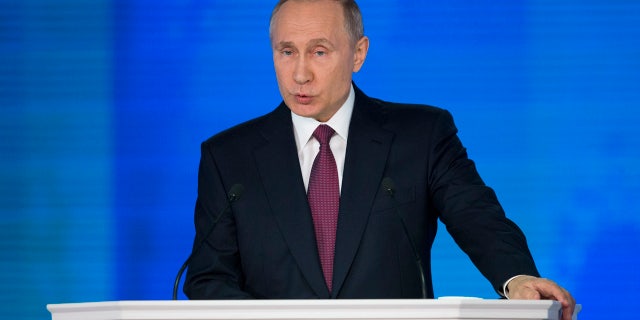 One of the new "low-yield" nukes being developed by the U.S. is a sea-launched nuclear-tipped cruise missile, similar to what the U.S. Navy deployed on warships during the Cold War. The other "low-yield" option is to deploy a smaller warhead for existing missiles carried by ballistic missile submarines.
The Pentagon recently released a new nuclear strategy warning about the rising Russian threat, which needed to be matched by the U.S.
"Russia is developing and deploying new nuclear warheads and launchers. These efforts include multiple upgrades for every leg of the Russian nuclear triad of strategic bombers, sea-based missiles, and land based missiles," the report said. "Russia is also developing at least two new intercontinental range systems, a hypersonic glide vehicle, and a new intercontinental, nuclear-armed, nuclear-powered, undersea autonomous torpedo."
The Russian leader said that another new weapon called Avangard is an intercontinental hypersonic missile that would fly to targets at a speed 20 times the speed of sound and strike "like a meteorite, like a fireball."
Putin emphasized that the development of new weapons that have no equivalent in the West came after the U.S. withdrawal from a Cold War-era treaty banning missile defenses and U.S. efforts to develop a missile defense system.
He said that the U.S. has ignored Russian complaints.
"No one has listened to us," he said. "You listen to us now."
The Associated Press contributed to this report.