Russia, Syria team up for new air-and-ground assault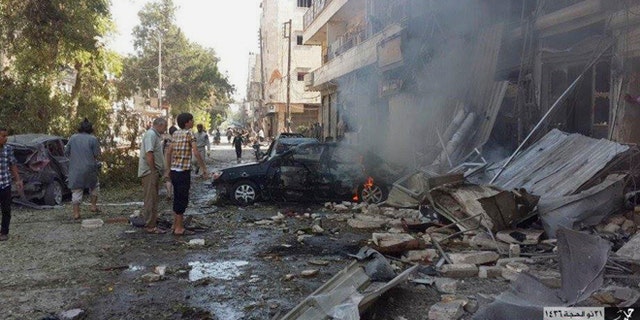 Russian warships in the Caspian Sea fired cruise missiles Wednesday as Syrian government troops launched a ground offensive in central Syria in the first major combined air-and-ground assault since Moscow began its military campaign in the country last week.
The cruise missiles flew more than 900 miles from the Caspian Sea over Iran and Iraq, where nearly 3,500 U.S. troops are based, before striking their targets in Syria. Pentagon officials cannot confirm if ISIS targets were struck.
U.S. Navy Captain Jeff Davis said the cruise missile launch was "not a surprise" to the Pentagon, but was unaware if the Russians had given the U.S. military a "heads up."
"I don't know if we were notified," said Davis.
Meanwhile, NATO's secretary general said Wednesday that Russian ground troops are among Moscow's "substantial" build-up of forces in Syria, Sky News reports.
While Russian President Vladimir Putin has said he would not put troops in Syria, Russian military chiefs have discussed the possibility of sending "volunteer" soldiers to fight.
The United States announced it would not cooperate militarily with Russia in Syria because its strategy is "tragically flawed." But Defense Secretary Ash Carter said the U.S. is prepared to carry out basic, technical discussions on pilot safety.
Russia's defense ministry responded by claiming the U.S.'s refusal shows Washington is seeking an excuse not to fight terrorism, Reuters reports.
The Russian airstrikes appear to have emboldened Syrian troops after suffering a string of setbacks in northwestern Syria over the past few months.
Also Wednesday, French President Francois Hollande refuted Putin's claim that France suggested an alliance between Syrian government forces and the opposition's Free Syrian Army.
Hollande said: "Know that it will not be possible to reunite the opposition -- I am talking about the moderate opposition, the democratic opposition -- with the executioner of the Syrian people."
NATO chief Jens Stoltenberg also said he doubted Russia's claim that recent violations of Turkey's airspace were a mistake because there were two incursions and they lasted longer than a few seconds, according to Sky News.
NATO defense ministers are scheduled to meet Thursday in Brussels, during which Russia's actions in Syria and any resulting measures the U.S.-led alliance needs to take will be at the top of the agenda.
"Incidents, accidents, may create dangerous situations," Stoltenberg added. "And therefore it is also important to make sure that this doesn't happen again."
The Associated Press contributed to this report.