Russia commits to sending Iran fighter jets in violation of U.N. resolution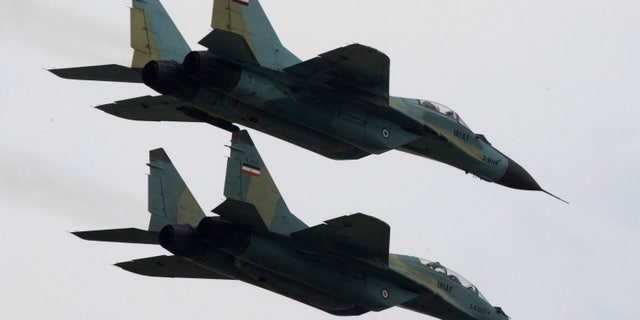 NEWYou can now listen to Fox News articles!
Russia announced Wednesday it will sign a contract to supply a batch of fighter jets to Iran in violation of a U.N. ban, Russia's News Agency RIA reports.
A U.N. resolution passed on July 20, just days after the landmark nuclear deal between Iran and six world powers, including the U.S., forbids Iran from making conventional arms sales for the next five years.
The resolution specifically bans the sale of "battle tanks, armored combat vehicles, large-caliber artillery systems, combat aircraft, attack helicopters, [and] warships…" from being purchased by Iran without prior approval from the U.N.
The deal, if carried out, would represent Iran's latest violation of a U.N. Security Council resolution. Fox News was first to report that Iran carried out a medium range ballistic missile test on Nov. 21 from a known missile test site along the Gulf of Oman. The test led to strong condemnation from members of the U.N. Security Council.
The controversial agreement to supply the Islamic Republic with Sukhoi Su-30SM multi-role fighter jets comes one day after the Iranian Defense Minister Hossein Dehqan met in Moscow with Russian President Vladimir Putin, Fox News confirmed.
Dehqan is accused of orchestrating the 1983 terror bombing that killed 220 U.S. Marines and 21 other service members in Beirut, Lebanon.
Fox News Channel Producer Lucas Tomlinson contributed to this report.