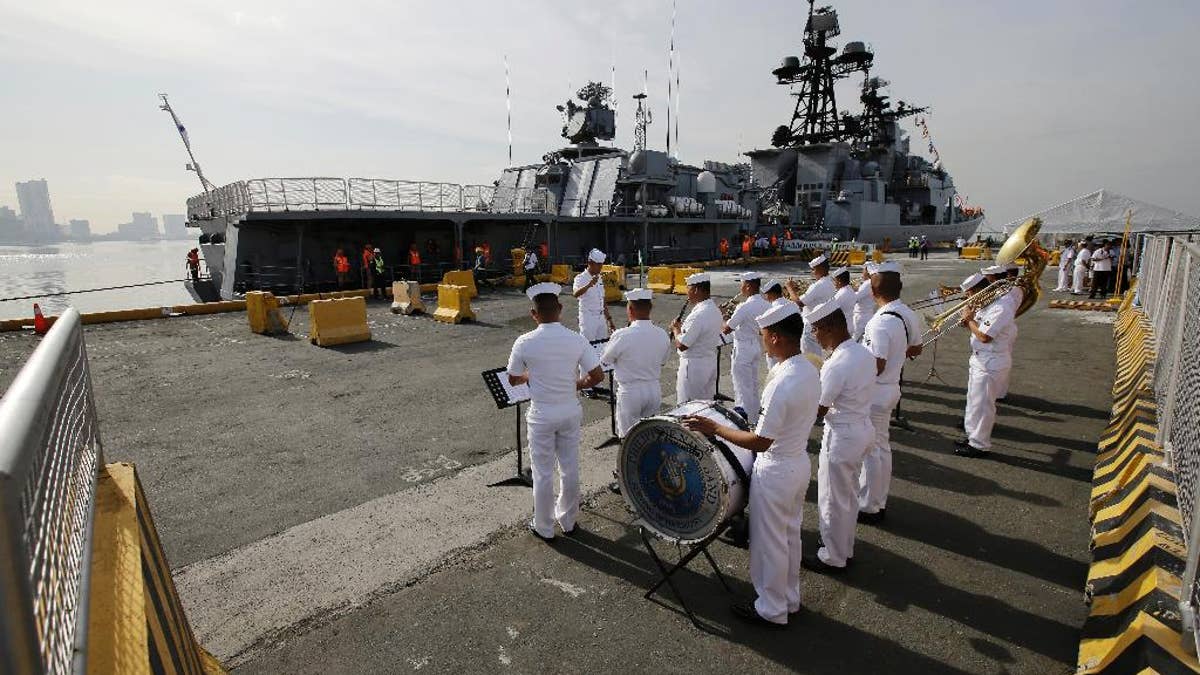 Russia is eyeing naval exercises with the Philippines and deployed two navy ships for a goodwill visit to Manila on Tuesday as Moscow moves to expand defense ties with a Filipino president known for being hostile to the U.S.
SPICER HINTS OBAMA'S RUSSIAN SANCTIONS 'POLITICALLY MOTIVATED'
Rear Adm. Eduard Mikhailov, deputy commander of Russia's Pacific Fleet, led the five-day visit of vessels including an anti-submarine ship and showcased what his country can offer to a Southeast Asian nation that's long been a staunch American treaty ally.
"And of course everybody have the choice, and you can choice, you can choose how to cooperate for example with United States of America and how to cooperate with the Russian (unintelligible)," Mikhailov told reporters through an interpreter at the Manila harbor after a welcoming ceremony. "But from our side we can help you in every way that you need."
RUSSIAN DIPLOMATS EXPELLED IN CONNECTION WITH CYBER HACKS LEAVE USA
"We are sure that in the future we'll have exercises with you. Maybe, just maneuvering or maybe use of combat systems and so on," he said.
The anti-submarine ship Admiral Tributs and sea tanker Boris Butoma have a wide range of combat features. Filipinos will be allowed to tour the huge ships and Russian marines will demonstrate their combat capability during the high-profile visit, according to the Philippine navy.
With an underfunded and underequipped military, the Philippines has struggled to deal with attacks by ransom-seeking Abu Sayyaf militants and allied gunmen, who have kidnapped crewmen of tugboats and ships from neighboring Malaysia and Indonesia in the Sulu Sea and outlying waters.
Russia can help through future combat drills, Mikhailov said. "We have an experience in fighting these (threats)," he said. "We will share to you our knowledge on these problems, how to solve piracy and terrorism."
After Russian and Philippine officials met in Manila in August, the two countries began drafting a proposed defense cooperation accord that could be signed during a planned visit by President Rodrigo Duterte to Russia in April.
The visit by the Russian navy ships is the third to the Philippines and the first under Duterte, who took office in June. Duterte has lashed out at outgoing President Barack Obama and his administration for criticizing Duterte's deadly crackdown on illegal drugs which is feared to have left more than 6,000 suspected drug users and dealers.
Contrastingly, Duterte has reached out to China and Russia -- whose leaders he has met recently -- in a dramatic shift in Philippine foreign policy that has put Washington in a dilemma.
The Philippines has depended heavily on the U.S., its treaty ally, for weapons, ships and aircraft for years, although it has turned to other countries for defense equipment. After visiting Moscow last month, Defense Secretary Delfin Lorenzana said the Philippine military was considering purchasing sniper rifles from Russia.
Duterte has repeatedly threatened to scale back U.S. troop presence and joint exercises with the Americans in the Philippines.