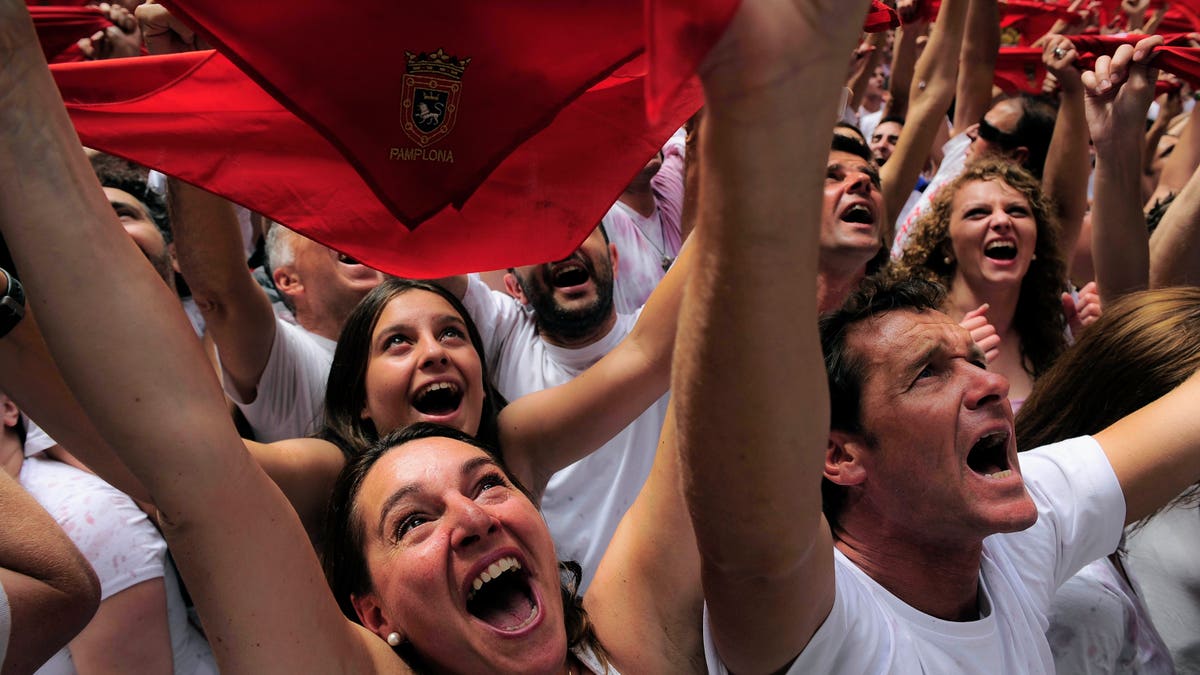 PAMPLONA, Spain – Tens of thousands of revelers showered each other with sparkling wine and waved red kerchiefs Friday as the blast of a small rocket signaled the start of this year's running of the bulls.
Spain's most famous summer festival kicked off in the jam-packed and cobblestoned main square of the northern town of Pamplona. People from around the world, many wearing the traditional red kerchief and white shirt and pants, roared their approval as an official on a city hall balcony declared the San Fermin festival under way. He then lit the rocket, its boom echoing through the plaza.
Revelers sprayed each other with white wine, water and other liquids, and pelted each other with flour, making for a pasty but merry mess. Huge plastic balls used to advertise products and services bounced atop the crowd.
"It looked like a giant food fight," said Andrea Smith, 33, a member of the U.S. military stationed in Italy. A native of Coxsackie, New York, she had come to Pamplona on leave just to watch all the fun — not to test her luck with the 500-plus kilogram (1,100-pound) beasts that are the stars of the show.
Lindsay Erdall, a 25-year-old nurse from Montana, called the opening party "the craziest thing I have ever seen."
"I have been here for the setup, and now that it has started it is amazing. Not sure I will run because it is way too crowded," she said.
The first of eight runs in which daredevils dash through the streets with six powerful fighting bulls begins Saturday.
The bulls thunder along with six bell-tinkling steers meant to keep the bulls running in a pack, with the goal of making the run safer. An isolated bull can get spooked and disoriented, becoming much more likely to charge at people.
Since record keeping began in 1924, 15 people have been killed by bulls in the early morning festival runs. The most recent such tragedy came in 2009 when a young Spaniard was gored in the neck as he tried to escape a bull by sliding feet-first under a fence separating the course from the crowd watching the run. It was the first death at San Fermin in nearly 15 years.
The party honoring San Fermin, the patron saint of Pamplona, was immortalized in Ernest Hemingway's novel "The Sun Also Rises."
_______
Daniel Woolls contributed to this report from Madrid.