Roadside Bomb Kills 6 Afghan Civilians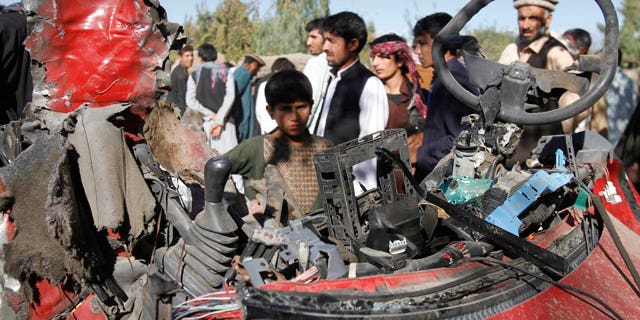 NEWYou can now listen to Fox News articles!
KABUL, Afghanistan-- A roadside bomb destroyed a car in eastern Afghanistan Saturday, killing nine civilians, including a woman and a child, officials said.
President Hamid Karzai condemned the bombing, which took place outside Mehterlam, the capital of Laghman province.
Faizanullah Patan, a spokesman for the provincial governor, put the death toll at nine and said the blast destroyed the vehicle.
In southern Afghanistan, gunmen shot and killed a village elder Saturday in the Khash Rod district of Nimroz province, regional chief Hashim Norizia said.
Nimroz has been recommended for transition from NATO to Afghan security control later this year. The city of Mehterlam went to Afghan control in July.
A bicycle bomb in western Herat province's Injil district wounded two police officers and two civilians, the Interior Ministry said.
Many Afghan militants have traditionally had their strongholds in the south, but also carry out numerous attacks along the eastern border with Pakistan.