Retired Pope Benedict says he is in last phase of life, on 'pilgrimage home'
Retired Pope Benedict XVI revealed in a rare letter published in an Italian newspaper Wednesday that he's in the last phase of his life, and is on his "pilgrimage home."
Benedict wrote the letter to the Corriere della Sera in response to readers who asked about his well-being as the five year anniversary of his stunning resignation approaches, the Catholic News Agency reported.
"I can only say that at the end of a slow decline in physical strength, inwardly I am on pilgrimage home," he wrote.
Since he resigned in February 2013, the 90-year-old has been living in a former convent on the Vatican gardens.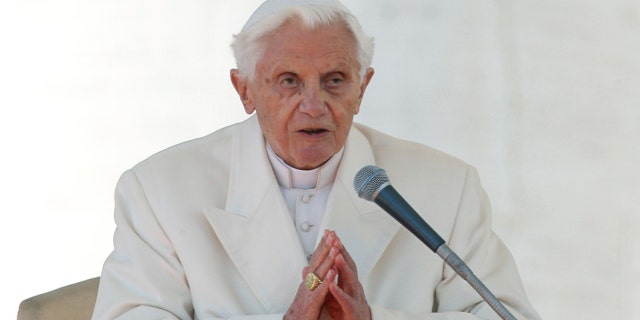 Those closed to the retired pope have told Reuters he's still sharp mentally, but needs a walker to get around. Since stepping down, Benedict has only appeared publicly at major Church events.
POPE FRANCIS REPORTEDLY RECEIVED LETTER FROM CHILEAN SEX ABUSE VICTIM, DESPITE DENIAL
Benedict, a conservative German, said he was "moved" by the concerns of readers, and said he sees them as "an accompaniment" in his life.
"Because of this," he wrote, "I cannot but be thankful, on my part assuring you all of my prayers. Best regards."