Resignation after power grab rocks Infantino's new era claim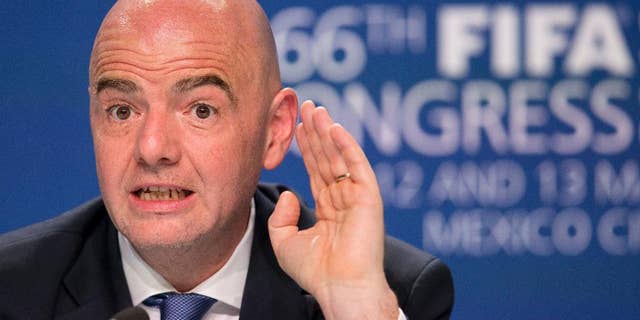 NEWYou can now listen to Fox News articles!
MEXICO CITY – It's taken less than 80 days for Gianni Infantino's claim to be leading FIFA into a new era to be publicly undermined.
Infantino was plunged into damage limitation mode on Saturday after a significant figure behind the clean-up of FIFA — independent compliance and audit chief Domenico Scala — quit with a stinging rebuke about the president's conduct.
It left Friday's bold declaration by Infantino that FIFA's crisis had ended looking like his own premature "Mission Accomplished" moment.
It was little wonder Infantino looked so elated when he told delegates "I can officially inform you here, the crisis is over." That claim came after the previous year's FIFA Congress was rocked by the arrests of high-ranking executives.
Infantino had sprung two unexpected moves on the membership that gave the impression of shoring up his fledgling presidency.
While relaxed and preparing to fly home after days of generous hospitality, delegates were potentially blindsided by being asked to approve a change to the statutes that effectively saw Infantino seize control of FIFA's ethics organs.
Only one member association voted against handing FIFA's ruling council the power — if needed — to fire Scala, ethics judge Hans-Joachim Eckert and investigator Cornel Borbely. Despite Eckert and Borbely only discovering the clandestine action when it appeared on congress screens, they do not expect it to impact their work.
But Scala believes the council headed by Infantino could now impede investigations with the threat of dismissal hanging over ethics officials.
In his resignation statement, Scala said Infantino's move "undermines a central pillar of the good governance of FIFA, and it destroys a substantial achievement of the reforms." FIFA dismissed the rebuke as "unfounded."
The independence of the oversight bodies is widely seen as essential for FIFA to reassure external investigators that it can weed out offenders. They helped to ban both FIFA's president, Sepp Blatter, and the secretary general, Jerome Valcke, in the last six months.
Valcke's replacement as FIFA's top administrator was another disclosure bounced on the congress.
Fatma Samoura initially appeared to be a savvy choice for its secretary general in a job that had never been previously filled by a woman or non-European. But it quickly became clear that the Senegalese United Nations veteran had not emerged from an open recruitment process and lacks the business background seen as even more essential in the reshaped post, following reforms which Infantino helped to mould last year.
Although Samoura seems well qualified to overhaul the development division, Infantino has the experience required to lead on television contracts and sponsorship negotiations after almost a decade as UEFA general secretary.
Samoura's knowledge of the soccer world also came under question when she told French media on Saturday that, when she first met Infantino in November, he was still campaigning for Michel Platini. Platini had in fact been suspended by FIFA the previous month in one of the organization's most high-profile disciplinary decisions and Infantino was already a presidential candidate.
By appointing Samoura for the CEO-like job, Infantino could be better placed to retain some executive functions which were meant to have been stripped from the president to prevent a leader enjoying a power base like Blatter's.
Although Infantino has been in the job for more than two months, he does not appear to have been paid yet.
"My pay is not yet fixed as far as I am concerned," making it difficult to give a figure, Infantino said while laughing when asked about his salary on Friday.
But the remuneration committee headed by Scala agreed Infantino's salary before the Feb. 26 election and decided the new secretary general would now be paid more than the president.
Former FIFA anti-corruption adviser Mark Pieth, who is close to Scala, said that the rift between Infantino and Scala is partly because the president "wants more than the 2 million (Swiss francs; $2 million) that Domenico is offering him."
In his first week in the job, Infantino said he didn't seek the presidency "for money."
Having campaigned on a pledge to make FIFA more open and transparent, Infantino has struggled to make an immediate impact.
The 45-year-old Swiss-Italian and his council members stayed in the high-end Four Seasons Hotel in Mexico while the rest of FIFA staff were in the more moderately priced 5-star Intercontinental, albeit following long-standing bookings.
When Infantino toured the hotels used by regional confederations he was surrounded by several security guards and he didn't appear to meet regular football fans or escape the FIFA bubble during a week in Mexico.
One of FIFA's greatest challenges in the last year has been convincing the world's media that it can be trusted to clean up its act and is now more transparent.
But FIFA was admonished in Britain's Daily Mail newspaper for scoring a "spectacular PR own goal" by putting media behind barbed wire to glimpse down on a lavish dinner for delegates on half of the Azteca Stadium pitch on Wednesday.
The other half of the 1970 and 1986 World Cup final field was used for a game featuring FIFA's new "legends" team — Infantino's attempt to bring stars of the game closer to its governing body.
FIFA said the veterans, including Brazil great Ronaldinho, were not paid to be in Mexico. Member associations, though, could claim $1,000 each for three delegates just for attending a few days in Mexico.
"We don't take the 1,000 — we think it is outrageous," English Football Association chief executive Martin Glenn said. "It costs you nothing to come here, you have got no expenses when you are here so I don't understand the logic of it."
Infantino said the future of the handouts "can be looked at" but Glenn described FIFA as "old-school" when it comes to spending that could be better invested in football projects.
"If you were a major U.S. multinational you wouldn't be running things quite in this way," Glenn reflected on the congress.
After more than two months with Infantino at the helm, FIFA still resembles the remote and detached institution of the Blatter era.
And with Friday's congress being seen as a power grab by Infantino, the president faces an immediate challenge to recapture the optimism that greeted his election win.
___
Rob Harris can be followed at www.twitter.com/RobHarris and www.facebook.com/RobHarrisReports