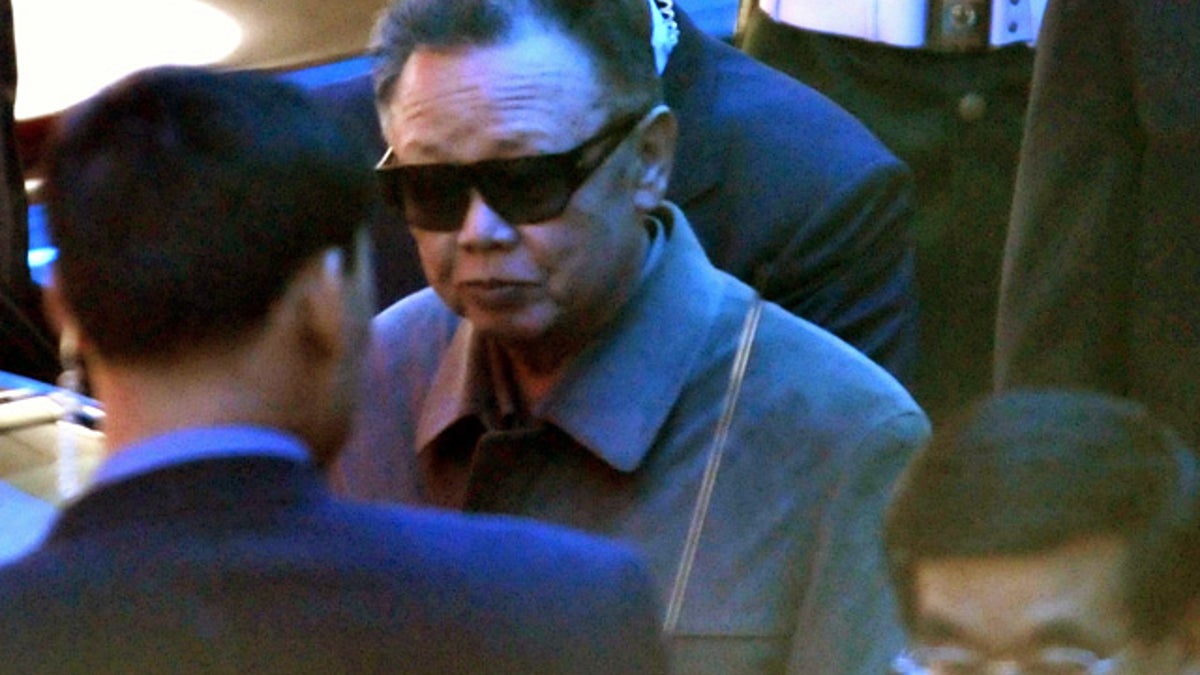 BEIJING – BEIJING (AP) — North Korea's reclusive leader Kim Jong Il was making his way Wednesday to China's capital on a rare overseas trip meant to be so secret that Beijing refused to confirm it — despite videos shot by foreign media showing him leaving a Chinese hotel.
Kim was expected to meet with President Hu Jintao and other top Chinese leaders just as South Korea inches closer to blaming the North for the recent sinking of a navy ship that killed 46 sailors.
Japanese and South Korean media, which have been closely tracking Kim, reported Wednesday that a train carrying Kim had arrived in the eastern port city of Tianjin, one of China's special economic zones aimed at manufacturing and exports.
Kim's visits to China — North Korea's chief benefactor — are usually not officially announced until he leaves the country, but he was photographed leaving a hotel after reportedly arriving in the port city of Dalian. Kim, North Korea's absolute ruler, is known to shun air travel.
Kim's visit, expected for months, comes amid increasing speculation in South Korea that his hard-line communist regime may have torpedoed the South Korean warship in disputed waters near their maritime border in March.
In Seoul on Tuesday, President Lee Myung-bak said the sinking of the Cheonan was not a "simple accident" and ordered a thorough review of South Korea's military readiness.
Lee called North Korea's military "the most belligerent forces" but stopped short of directly naming the North as a suspect in the March 26 disaster.
If South Korea declares North Korea responsible for the sinking, it could look to China to back new United Nations sanctions aimed at punishing the North. China would likely be reluctant to support such measures, fearing they could spark unrest along its border with North Korea.
In Seoul, South Korean Unification Minister Hyun In-taek met with Chinese Ambassador Zhang Xinsen on Tuesday and called on Beijing to play a "responsible role" amid the North-South tensions, according to spokesman Chun Hae-sung. Chun did not elaborate or say whether China was being asked to convey a specific message to North Korea.
The sensitive timing of the visit and lack of advance notice from Beijing drew criticism from some South Koreans.
"I think it's disappointing and worrisome for China to accept Kim Jong Il's visit," Chung Mong-joon, head of the ruling conservative Grand National Party, told party members on Monday. "Chinese leaders must convey our concerns and anger" to Kim over the ship sinking, he said.
In Beijing, Chinese Foreign Ministry spokeswoman Jiang Yu fended off repeated questions about Kim's presence and arrangements for the visit, saying, "The arrangement of receiving a foreign leader is always decided through bilateral consultations."
Rumors of a Kim trip, the first since he traveled to China in 2006 and since the 68-year-old leader reportedly suffered a stroke in 2008, have circulated for months since Hu invited him for a visit to mark the 60th anniversary of diplomatic ties between the allies.
Kim has traveled overseas just five times since taking over power from his father in 1994.
He was seen by foreign reporters in Dalian on Tuesday getting into a car and then being driven away in a motorcade.
Kim visited factories in an industrial zone near Dalian where Japanese and South Korean companies have operations, South Korea's Yonhap news agency said, citing an unidentified source. Yonhap also reported that Kim's train left Dalian on Tuesday evening.
Speculation on Kim's purpose in visiting China have focused largely on North Korea's desperate need for economic aid and diplomatic backing in its disputes with South Korea and the international community. China, which once described relations with its communist neighbor as like "lips and teeth," fought on the North's side in the 1950-53 Korean War, and remains its biggest source of economic aid and political support.
The trip comes as China's leadership has been trying — so far unsuccessfully — to persuade Kim to reform his country's moribund economy and return to negotiations on ending its nuclear weapons program.
China's support is especially key at a time when North Korea's isolation is deepening and Kim is believed to be grooming his youngest son, Kim Jong Un, to succeed him as leader of the impoverished nation of 24 million.
North Korea quit the disarmament-for-aid talks a year ago and then conducted a nuclear test that drew tightened U.N. sanctions. The government's botched currency reform aimed at regaining control over the economy late last year is believed to have worsened its financial woes.
___
Associated Press writers Kwang-tae Kim and Hyung-jin Kim in Seoul contributed to this report.