Reporter's Notebook: Skeleton of London tower stands as reminder to government failure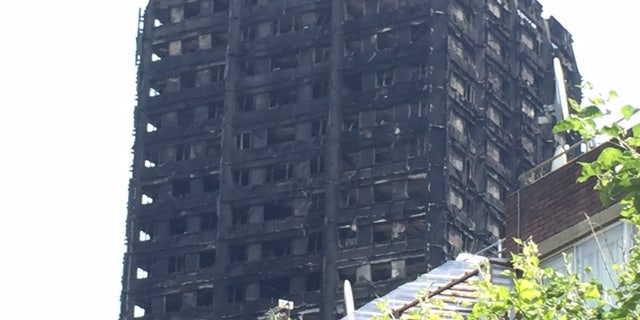 NEWYou can now listen to Fox News articles!
LONDON – It was like being away from your home and hearing it had burned down. I was on my way to New York last week to meet with Fox News colleagues and then spend Father's Day weekend with dad, as that 24-story apartment building in London went up in flames.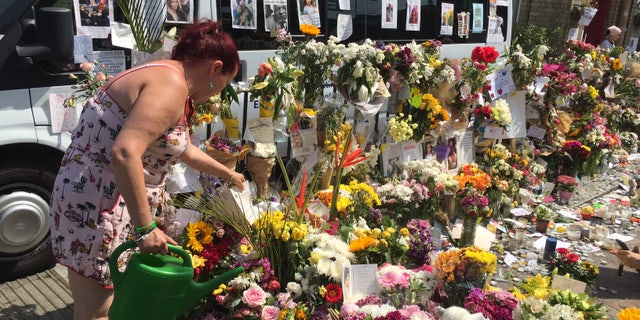 It's only about 12 minutes from my apartment in London so the tragedy hit very close to home – literally. And so I, like a lot of people in New York and around the world, followed it closely, as dozens died and hundreds of families' lives were displaced and destroyed.
Upon my return to London I had to see the scene for myself, one week since the blaze started. Flowers and messages of grief still line the cordon around the building area. In a flashback to 9/11, photos and names of people still technically "missing" are posted. Police, firemen and emergency vehicles fill the streets.
LONDON FIRE: 42 BODIES FOUND IN ONE ROOM, VIDEO ALLEGES
Looming above it all, in the unusually hot (for London) sunshine, stood the hulking, black carcass of the apartment tower.
And the memories were still raw.
"It happened in seconds," one woman who witnessed the fire told me. "I know it took minutes to spread, but it seemed like seconds."
"I've never seen so much sobbing," "Sister Ruth," a nun who has spent time in the toughest areas of Africa, recounted to me. Two close friends were in the building and died.
"We did what we needed to do," explained Reverend Ian Black, the chaplain for the firefighters who plunged into the smoke and flames again and again.
Now, as families try to put their lives back together, and the government tries to come to grips with the tragedy, there is a change in the air.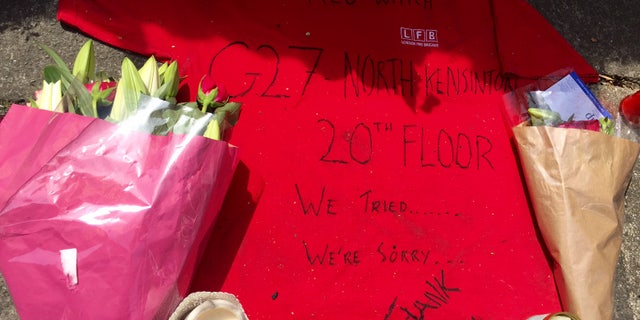 LONDON FIRE: POLICE RELEASE IMAGES OF DEVASTATING TOWER INFERNO
"The grief is now turning to anger," Sister Ruth confided to me.
"How could this be possible?" asked a young girl named Vanessa. She, too, had friends in the building.
An older man, Mike Searles, just stood there staring and described the "enormity" of the event.
It has been a tough year for the UK and it's not even half over. Just two days ago, London saw yet another terror attack, a deadly vehicle assault on worshippers outside of a mosque.
ALMOST $4 MILLION RAISED FOR LONDON FIRE VICTIMS
But this horrendous incident seemed, to many, so preventable. Shortcuts in safety measures and renovation of the public housing seem to be the cause of the fire. The skeleton of the wrecked Grenfell Tower stands like a monument to government failures.
The help on display on this day, offered by local churches, community groups and the authorities, is a reminder again, though, of the resiliency of this city. In the wake of the fire, they called it the "Blitz spirit," referencing Nazi air raids Londoners endured during World War 2.
In the face of modern-day challenges, this world capital is digging out again.